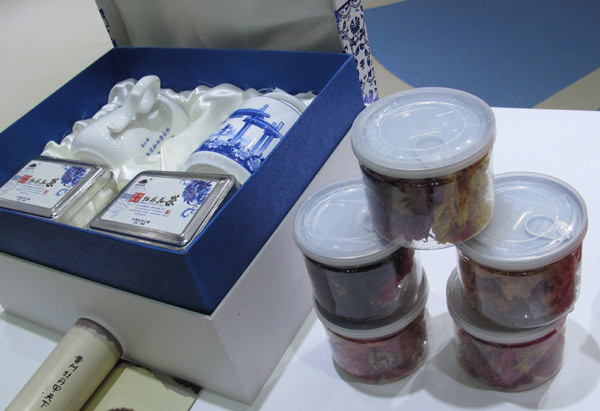 A display of peony tea is shown at the peony industrial park, Heze, East China's Shandong province, Oct 28, 2014. The tea is made from the plant's pistils. [Dai Tian / chinadaily.com.cn]
The largest center for peony cultivation in China, Heze, Shandong province is looking to extend its flower production business by 30,000 hectares, said a local official on Oct 28.
Sun Aijun, mayor of Heze said that companies in the city have made breakthroughs in developing various peony-related products, which include peony seed oil, peony tea and dried flowers.
Peony seeds are used to make cooking oil. Petal extracts are used in the creation of cosmetics, perfume and essential oil. The pistils can be made into a tea while the root of the plant can be made into Chinese herbal medicine.
"A bottle of peony seed oil sells for at least 800 yuan ($130)," said a salesperson at Heze peony industrial park.
Peonies used for seed oil extraction will total about 667 hectares but it will take three years to produce seeds, said an official.
Recognized in 2011 as a new food resource by the Ministry of Health, peony seed oil contains alpha-linolenic acid, which is helpful to brain cells and can significantly reduce both anxiety and stress, according to technicians at the industrial park.
Lab results from the Chinese Academy of Forestry in 2006, showed peony seed oil is composed of 43.18 percent alpha-linolenic acid, 61 times higher than olive oil and six times more than soybean oil.
Heze exports about 80 percent of China's peonies per year.