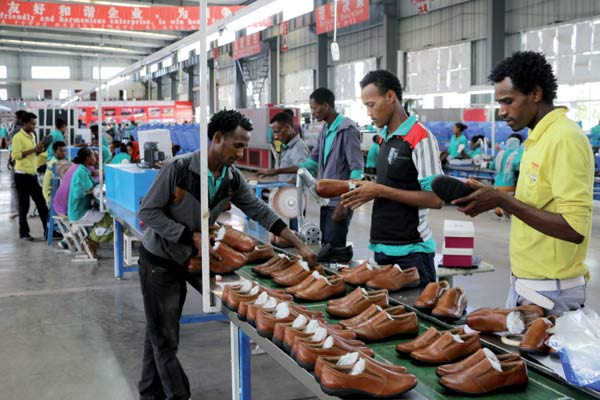 Workers operate on the production line in the Dukem, Addis Ababa, workshop of Huajian International Shoe City (Ethiopia) Plc. CHEN WEIHUA/CHINA DAILY
Africa will see increasing investments in agriculture and manufacturing in addition to traditional mining and infrastructure from global players, including Chinese companies, said a senior economist.
"Extraction industry will remain an important destination in Africa, but there's going to be a drive in the non-resource industries," said Pratibha Thaker, regional director of Middle East and Africa with Economist Intelligence Unit, in an interview during her visit to China.
Africa's share in global foreign direct investment (FDI) projects has reached the highest level in a decade, according to a report by Ernest & Young in May, with retail and consumer products becoming the second most attractive sector.
On the other hand, for the first time ever in 2013, mining and metals exited the top 10 sectors, added the report.
"Natural resources will continue to be a major investment. It's not going to change dramatically," said Thaker, adding that an increasing proportion at the same time is going into other areas such as manufacturing, retail and agriculture.
As Chinese companies have recognized that mining involves high risk and high return, their second wave of investment is more selective, said the economist.
Thaker added that soft metal price, tightened credit, political transition and sentiment toward Chinese investors were among the factors behind the slowdown in certain mining investments in 2012 and 2013.
"But we notice China returning to Africa seeking copper, iron, uranium and gold, as there's still strong demand from China to tap further into such supplies," she said.
Infrastructure and natural resources are still key in fueling China's need and will continue to play a role in FDI engagement at least in a short to medium term.
"We are not seeing investments moving away from natural resources, but existing along with it. China is tapping both natural and non-natural resources," said Thaker.
Investment incentives like tax break have eased the deals, particularly driven by the flow into the infrastructure industry and they will also play a more important role when FDI becomes broad and more companies will be targeting agriculture and service sectors.
In terms of hedge against political risks in Africa, she said that companies need to research local political environment and its influence on business, negotiate compensation terms with host countries and ensure international arbitration clauses are included.
"Tapping into service industry requires due diligence of potential partners that could offer a local perspective and provide efficient support," Thaker added.
The EIU expects Africa to grow five to six percent a year as the world's second-highest growth area after Asia.