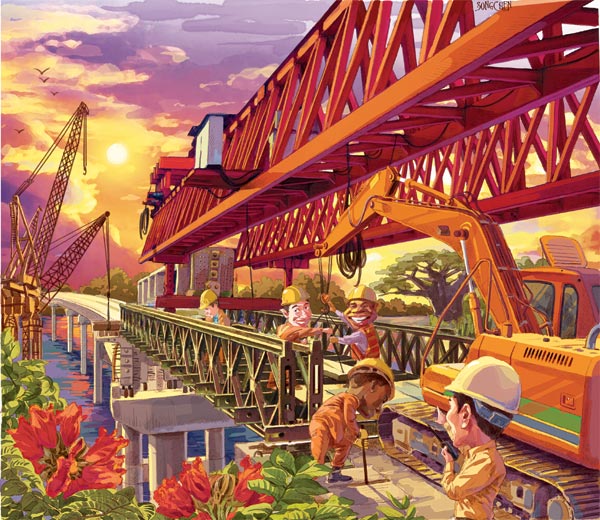 Song Chen/China Daily
On the outskirts of Libreville, Gabon, where women sell fresh fruit beneath palm trees and beach umbrellas, time seems to stand still.
Locals carrying baskets and boxes on their hea
ds
amble along in the stifling afternoon heat that blankets the Gabonese capital. Traffic slows to a crawl on narrow streets hemmed in by dilapidated buildings whose architecture reflects the country's French colonial history.
Like the wild-haired children who flop listlessly in the lee of whitewashed walls, it is as if progress has run out of steam here and staggered off to find a patch of shade.
In the decades after the slump in oil prices in the 1980s hit Gabon's petroleum-reliant economy, it was like this everywhere, locals say. National momentum slowed, and the country even began to slide backward under its weight of debt.
Infrastructure that was already inadequate became run-down, and plans for new infrastructure and upgrades were delayed and delayed again.
The neglected suburbs on the periphery of the city are a reminder of what was once the norm, and what might always have been, if China had not come to Gabon.
In the past decade, Libreville's city center and coastal areas have been rejuvenated, and China's hand in making that happen is everywhere to be seen. The contrast between the old urban areas on the fringes and the city center is profound.
The once static skyline of the central business district is now populated by cranes, each one hanging eagerly over buildings under construction.
The city's foreshore is now a massive construction site, fenced in with billboards that are plastered with images of the upscale hotels and marinas and shopping malls and skyscrapers to come.
The developers' logos are displayed in French, but this is merely a courtesy, a translation of the Chinese characters that loom larger still. Names such as China Harbor Engineering and Sinohydro stand out against the collage of faded posters from last-century advertising products from Paris.
Libreville, a magnet for both State-owned, small companies