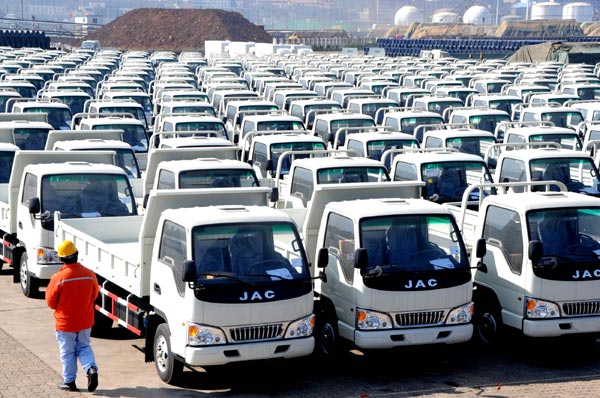 JAC trucks ready for export to Algeria. As domestic sales stagnate, Chinese commercial truck makers look overseas. [Photo/IC]
Logistics firms focus more on efficiency
Though medium-priced and even low-end models still dominate truck sales in China, German consulting firm Roland Berger expects the need for efficiency at logistics firms and the government's strong push for lower emissions will eventually change the market mix.
"Imported high-end trucks only account for 1 percent of China's heavy-duty truck market - it's very low," said Norbert Dressler, partner of Roland Berger Strategy Consultants GmbH.
But "we see the percentage increasing due to logistics companies paying more attention to their business efficiency", said Dressler.
"Roland Berger assumes the ratio will increase to 3 percent by 2020."
He noted China's truck market - the largest in the world - is a pyramid structure with medium and lower-end products ranging in price from 300,000 yuan ($49,180) to 800,000 yuan taking about 80 percent of the share.
Statistics from the China Association of Automobile Manufacturers show that 1.77 million trucks were sold in the first half, a drop of 4.27 percent on an annual basis.
Only the heavy-duty truck segment showed an increase as it rose 6.53 percent while lower-capacity commercial trucks all reported sales declines.
At the same time the overall auto market increased 8.4 percent and the passenger vehicle segment surged 12.1 percent.
"We should say that the first-half performance is really good in such a weak environment as China's economy slowed after the 4 trillion yuan stimulus investment in infrastructure ended in 2011," said Dressler. "The first quarter started off the year with an strong increase followed by a little drop in the second quarter."
Though he predicted heavy-duty truck sales won't break the 800,000-unit barrier this year, "we can still expect a small increase from the 770,000 units in 2013".
Sales are predicted to increase even as truck prices rise with more advanced models, said Dressler.