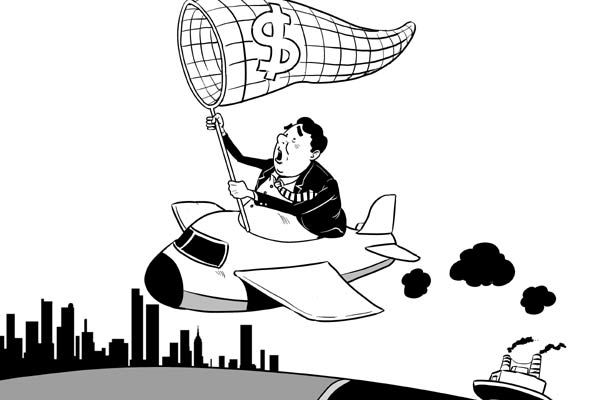 LI FENG/CHINA DAILY
With risks rising in the domestic real estate market, investors are switching attention to overseas markets. Among the difficulties investors face in the domestic market are tighter credit policies, stricter scrutiny and over supply of housing units. In contrast, they find the global realty market brighter because loans are more forthcoming and the yuan has been appreciating at a consistent pace.
Some well-off Chinese, particularly high net worth individuals, in their quest to migrate to foreign countries and maintain (rather increase) the value of their assets, have begun investing heavily in overseas real estate markets, and their preferred destinations are Europe, the United States, Australia and Singapore.
The US has replaced Canada to become the most desired destination for Chinese real estate investors after the Canadian government tightened its immigration policy recently. Some Chinese developers have even visited the US in person to buy properties there, which they intend to develop and sell to Chinese or Chinese-American buyers.
In the US, the average cost of a house for foreign buyers is about $396,000, compared with $247,000 for American citizens. Since Chinese homebuyers are willing to spend much more than that, they have started eyeing the US property market. This is not surprising because the average price of a house in China has increased from $500,000 last year to $590,000.
In the 2013-14 fiscal year, Chinese comprised the largest foreign group of homebuyers in the US. In real terms, Chinese homebuyers invested about $22 billion in the US, accounting for 24 percent of the total deals made by international buyers and registering a year-on-year growth of 5 percent, according to the 2014 Profile of International Home Buying Activity issued by US-based National Association of Realtors.
Moreover, Chinese buyers' preference for luxury houses has prompted some developers to also build villas and mansions that cost a lot more than the average house, according to a Chinese-American real estate agent in California.