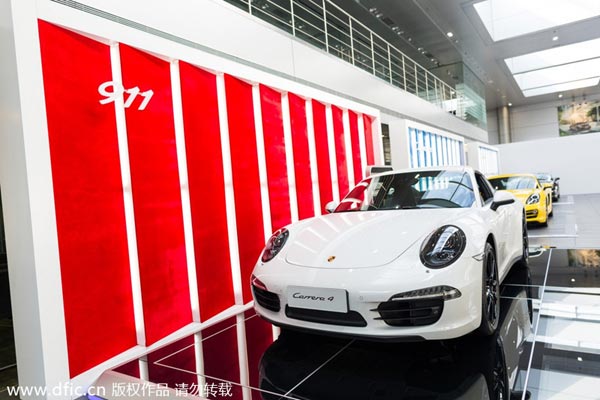 A Porsche Carrera 4 and other Porsche cars are displayed at a dealership of Porsche in Beijing, China, 29 June 2014. [Photo/IC]
Researchers predict new technology will boost buying
Auto sales in China will reach more than 50 million units when the market reaches its peak in the next four to six years, said a senior researcher at the government's think tank.
China has maintained the world's automobile sales champion for five years since 2009.
"My logic goes like this: now every 1,000 US people have 800 vehicles and 1,000 Europeans have 600 vehicles. Even if we Chinese are frugal and 1,000 people own 400 vehicles from 2018 to 2020, that would be at least 50 million units," said Liu Shijin, deputy director of the Development Research Center of the State Council.
Statistics showed that, at present, every 1,000 Chinese people have less than 100 vehicles and most vehicle owners are in urban areas.
Liu made the remarks when his research center released an annual bluebook of China's auto industry with the Society of Automotive Engineers of China and Volkswagen Group China.
"In other words, China's auto industry does not have such problems as an excessive production capacity like in the steel industry and will have easy days in the coming years," said Liu.
He added that the industry in the first six months this year registered an almost 10 percent growth year-on-year, about 2.5 percent higher than the GDP growth in the same period.
Liu said he believes people will buy cars more frequently as a result of increasing use of the Internet and rapid progress in renewable energy technologies.
"People usually change their cars every 10 years, or even five years for those who want to stay in fashion, but they change their mobile phones every year. That is because there was little change in vehicles in past years but a lot of change in mobile phones, almost every day."
Liu said rapid improvements in technology, especially the Internet, would have a "revolutionary" impact on the auto industry and increase the pace of vehicle buying.
Liu's words were echoed by Fu Yuwu, president of the Society of Automotive Engineers of China. He said the connection of vehicles with the Internet, known as Internet of Vehicles, could cut fuel consumption by 17 percent and triple the efficiency of road use, if well applied.
Fu urged domestic automakers to step up their research and development efforts as the Internet of Vehicles provides new opportunities for them to grow stronger.
"Overseas automakers have their traditional and technical advantages but that might also prove to be a burden when there is a new wave of new technologies," said Fu.
He said Chinese companies established a technical federation dedicated to the Internet of Vehicles and it would release industry standards from 2015.
Chinese automakers have suffered lackluster performance. Statistics from the China Association of Automobile Manufacturers showed by the end of June their share in the Chinese market had fallen for 10 consecutive months.