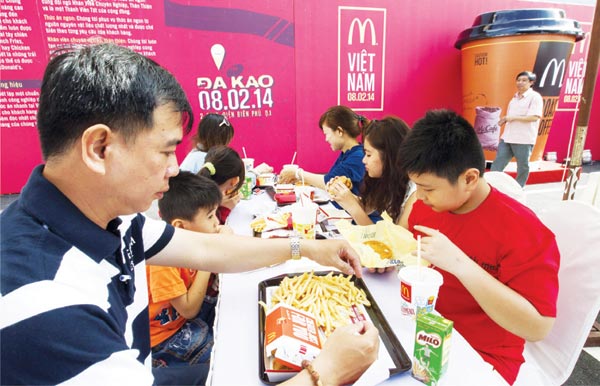 A Vietnamese family tucks into fast food on the opening day of the first McDonald's in Ho Chi Minh City on Feb 8. Asian countries such as India, China and Vietnam are some of the fastest-growing markets for the fast-food industry.
Public health expert Rob Moodie doesn't mince his words when it comes to fast and processed food companies and their contribution to obesity.
"Obesity is fundamentally a commercial success," says the professor at the Melbourne School of Population and Global Health, University of Melbourne.
He says Asia is the new target market for the multibillion-dollar processed and fast-food industries.
"Having been the major drivers of obesity throughout the developed world, these companies are now focused on Asia and have been for some time," Moodie says.
"You see the superbly fit 'kings of sport' with fast-food logos plastered all over them. When they play, do you think they eat or drink these junk foods and drinks? What we are seeing today is a repeat of the tobacco story as a public health issue but this one is bigger ... much bigger."
The companies pushing fast food, processed food and fizzy drinks have huge amounts of money to promote their products and fight any attempt to stop them, adds Moodie.
Early this year in Ho Chi Minh City, global fast-food giant McDonald's opened its first restaurant in Vietnam as it continues its expansion across Asia.
Major names such as McDonald's, Starbucks, Subway, Burger King, KFC and Coca-Cola are well-known around the region, where fast food is seen as a symbol of Western lifestyle, especially among the young and upwardly mobile new middle class.
However, due to the recent food safety scandal involving big international fast-food names in China, many people started rethinking about whether to eat those products.
It is not only fast-food chains that are responsible for creating unhealthy diets. In most supermarkets you will find packaged processed foods that contain little or no nutritional value at all.
These foods, according to the respected medical journal The Lancet, are made from processed substances extracted or refined from whole foods such as oils, hydrogenated oils and fats, flours and starches, variants of sugar, and cheap parts or remnants of animal foods - with little or no whole foods.
Global research company Transparency Market Research says the fast-food market was worth $477.1 billion in 2013 and is forecast to reach $617.6 billion by 2019. TMR said: "Fast food varies from region to region, but some fast food categories are universal, such as burgers, pizza, pasta, chicken and noodles, among others."
Emerging countries in Asia such as India, China and Vietnam are some of the fastest-growing markets in the world for the fast-food industry and are expected to experience double-digit growth between 2013 and 2019, according to TMR analysis. The growth in these markets is supported by higher disposable income and demand for convenient, tasty, affordable food.