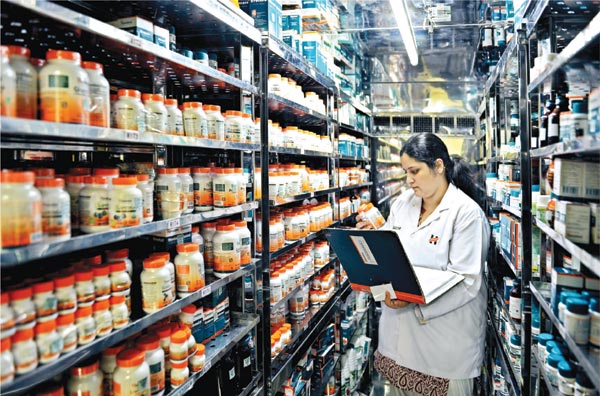 An employee checks packaged drugs stored in the stability chambers of the Himalaya Drug Company in Bangalore in southern India. Indian drug companies often face protectionism issues when trying to access the Chinese market, with some regulatory processes taking years to gain approval. [Photo/China Daily]
Chinese investors said to be ready to pepper India with billions of dollars in investments are looking to the government for a little more investment-friendly environment, business experts say.
Despite rapidly rising levels of trade, direct investment between the two neighbors has been negligible. A report in the Times of India quoted the Chinese Consular Office in Mumbai as saying that Indian investments in Chinese companies have reached about $4 billion, while investments by Chinese firms in India amounted to just $1.1 billion.
"India is a great market and under the leadership of the new Prime Minister Narendra Modi, the country is now seen as a market with better prospects for foreign investments," says Pan Song, managing director of private equity at Fosun Group, one of the largest privately owned conglomerates on the Chinese mainland.
"(He) has demonstrated his success in attracting Chinese investments in his home state Gujarat, where several Chinese companies have invested," Pan says.
Investors also expect more investment-friendly policies opening up more sectors for foreign direct investment, he says. Fosun plans to invest "anything between $100 million to $500 million in the next two to three years", says Pan.
Huawei India, which has been a major supplier of telecommunications equipment and operates in the country its largest overseas research and development center outside China, is sitting on an investment outlay of over $2 billion. But problems persist.
"Even as India says that it wants to encourage manufacturing with foreign help, Huawei is still struggling to obtain a manufacturing license in India," says Sameer Rawal, director of strategy and marketing at Huawei India.
"Concerns regarding security and suspicion continue to hinder the process," Rawal says.
According to Joe Thomas Karackattu, an assistant professor at the China Studies Centre, part of the Indian Institute of Technology in Chennai, there are two obstacles to expanding business activities between the two Asian economic giants: Protectionism in China for Indian investors; and, for Chinese investors, barriers to investment in India caused by security concerns and allegations of 'dumping'.
In knowledge-intensive industries such as pharmaceuticals, say industry sources, despite being the fourth largest drug manufacturer in the world, Indian companies often run into market access problems in China. The issues include lengthy and cumbersome regulatory processes, where it can take more than three years for an Indian drug firm to gain approval.
Chinese companies, on the other hand, face hurdles in India owing to perceived security and privacy threats. Procurement of Huawei and ZTE telecoms equipment, for instance, has been banned for government projects despite being superior to some competitors in terms of quality and pricing, say industry sources.