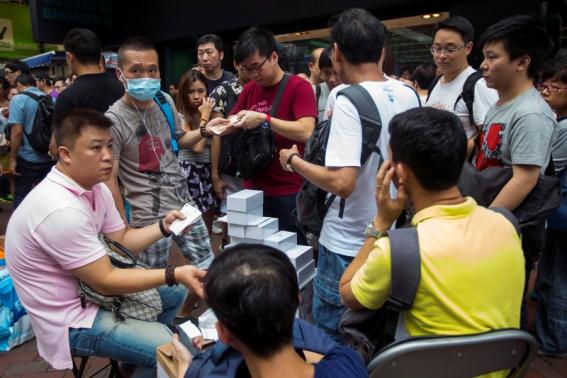 Traders (Left and bottom) buy the newly-released Apple iPhone 6 and iPhone 6 Plus smart phones from people who bought the phones earlier from the Apple store, at Hong Kong's Mongkok shopping district Sept 19, 2014. [Photo/Agencies]
Lured by the promise of profit from smuggling the new iPhones into China, opportunists joined the thousands of Apple Inc fans lining up to buy the devices as they were launched on Friday across Asia.
Regulatory hurdles mean the iPhone 6 and the larger iPhone 6 Plus won't be available soon in China, the world's biggest smartphone market where Apple products are popular.
Benefiting from the delay were many people in Singapore, Hong Kong and Australia, who said they were buying as many iPhones as they could specifically for resale in China.
Justin Leung, a 28-year-old financial planner from Hong Kong, said he paid his friends in Japan to buy iPhones, which he plans to sell in the Chinese mainland. Leung said he had set out to buy 35 iPhones from Tokyo, but he and his friends only managed to get a hold of 25 units.
At an Apple store in Tokyo's up-market Omotesando boulevard, another Chinese man said he had paid a group of Japanese to buy iPhones on his behalf. He declined to identify himself, but was one of several Chinese buyers queuing up at the store on Friday.
Apple representatives could not immediately be reached to comment on the practice.
China has granted the new iPhone approval for use on domestic frequencies, but the phone cannot be sold in China until a key network license is granted, the official Xinhua news agency said on Thursday. It did not say how long that would take.
The delay had given smugglers reason to cheer, with many Hong Kong residents racing to pre-order the phone online.
Such is the appeal of the iPhone in China that in Singapore, several people said they were getting paid to queue up to buy the devices with the intent of reselling them to dealers.
At a shopping mall in the Marina Bay financial center, Clarence Chen said he and 13 friends had been paid to camped out overnight in front of an Apple store to buy handsets.
"Our boss is paying us about $150 (US$120) per job," said the 18-year-old. "We are all buying two - one maybe for ourselves, the other to sell."
Chen declined to identify who had hired him and his friends but said the phones will probably be sold to a dealer.
Chinese national Shawn Shen, 32, said he was not an iPhone fan but took the day off work to queue to buy two units.
"If I can get money from selling it, the wait is worthwhile," he said, adding that he expected to make earn around $300 from selling the phone to dealers.