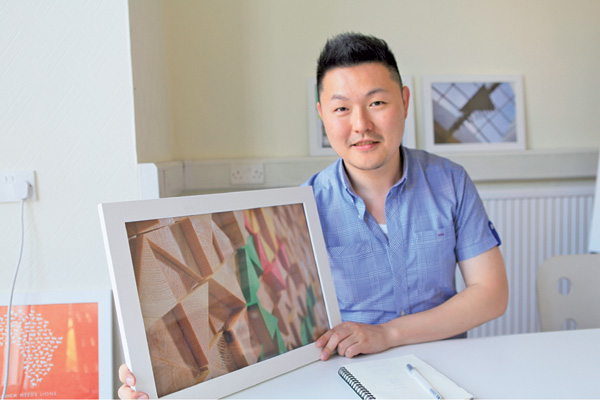 Ben Hui set up a marketing agency company and photos of the company's projects have a colorful, artistic air. [Provided to China Daily]
Clear communication, with large doses of color, has become Ben's instrument of choice
When pianist Ben Hui gave up his music career to start a marketing agency in 2010, he was venturing into a new field as a one-man band.
Since then his company, Language Brand Communication, has worked with dozens of big names including Airport City Manchester, NBA Global Games, Imperial College London, UK Trade & Investment and the UK's National Health Service, and it employs six people.
Sitting in his office in Old Trafford, Manchester, Hui, 36, points to project photos on his wall, all of which have a colorful, artistic air.
"As a company we don't chase money," he says. "We chase things that stimulate us and things that are meaningful. We provide quality work, so clients come to us."
One recent project the company worked on created a redevelopment plan for an NHS health center in Knowsley, near Liverpool, in the hope of transforming the health center into a welcoming environment for members of the public.
"The overarching aim of the project was to let the community feel the health center is a part of their community, rather than the government trying to build something and say, 'You people use it'," Hui says.
Working with the local youth council, Language created a clear pathfinding system in which color-coded wood arrows point patients, doctors and others in different directions.
In the health center, the Language team also hung on the ceiling a big sculpture created by local children using light bulbs filled with colored sand.
"So the kids went to the health center and pointed at the light bulbs to say, 'I made that one,' so they feel involved with the building," he says.
Another project is "DNA", an artwork outside an NHS health center in Kirkby, also near Liverpool, where the wooden letters DNA had circular holes in them and each child drew a picture to be seen through the holes.
Some of the company's projects have a China focus. One is the 800-million-pound ($1.3 billion) Airport City Manchester project, for which the Chinese firm Beijing Construction Engineering Group will complete half the building work.
In June, Airport City Manchester's development team traveled around China on its first international road show, visiting Tianjin, Beijing, Shanghai and Shenzhen, with more than 200 delegates attending to find out more, and Language was given the task of marketing the road show through Chinese social media.
Language's client base covers many companies that invest in China, and student accommodation that targets Chinese international students.
Although Language says it finds it difficult to recruit China-based clients, it has taken time to share insights on branding in Chinese through its website, in the hope of educating Chinese companies about the power of branding so they may eventually become clients.