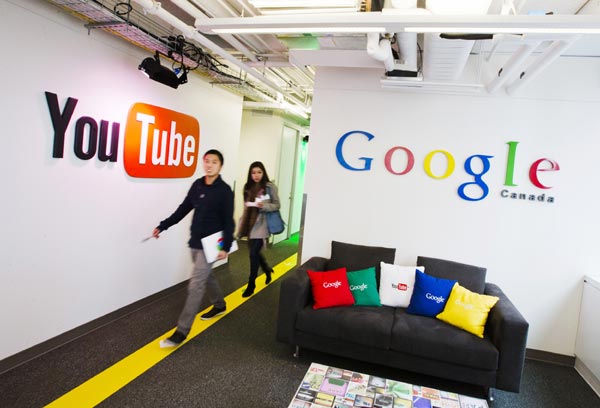 People walk by a YouTube sign at the new Google office in Toronto. The Interview, available on Google Play and YouTube Movies last month, topped the charts on YouTube's store. [Photo/Agencies]
Google Inc's agreement to show Sony Corp's The Interview gave its YouTube video-streaming website a chance to show that it is more than just a destination for amusing cat videos.
The controversial movie, available on Christmas Day on Google Play and YouTube Movies for $5.99 to rent and $14.99 to own, topped the charts on YouTube's movie store.
The Interview added to a growing collection of films offered by Google that include Divergent and The Lego Movie, and is part of its drive to bolster premium content to compete with Apple Inc's music and video library. Google, which runs the most popular Internet-search engine, is also seeking to keep users coming to its Web properties as digital rivals such as Netflix Inc and Hulu LLC draw more Internet traffic. The Interview gave Google the chance to prove to a wider audience that it can sell premium content, according to James McQuivey, an analyst at Forrester Research Inc.
"Google has needed a way to show love to studios for a long time and this will do it," McQuivey said. "Most people don't think of" YouTube "as a distribution platform for feature films. It might get a film up there after it has been out for a year or two, so this is a good move."
The online rollout marked the highest-profile feature film to debut on the Internet and followed Sony's last-minute efforts to get the movie out. Hackers allegedly linked to the Democratic People's Republic of Korea reportedly launched a cyber-attack on the studio's computers last month and threatened violence if the film-a satire starring Seth Rogen and James Franco with a plot to kill DPRK leader Kim Jong un-was shown. In response to the warning, major theater chains canceled the film's debut on Christmas Day.
The Web debut of The Interview, also available on Microsoft Corp's Xbox video console and a site owned by Sony, may be what is needed for film-watchers such as Debbie Reed, 62, in Newton, New Jersey, to give YouTube's pay service a try. The retiree said she is more accustomed to watching YouTube videos for knitting and other crafts.
"I didn't know you can do it from YouTube-it's usually Netflix or Apple," Reed said. "It'll be interesting to find out what all of this hype has been about."
The unconventional rollout of The Interview gave the simultaneous theatrical and online release its first big test. Typically, such debuts have been reserved for smaller films, such as independent movies that may not have enough widespread appeal to warrant a big theatrical marketing budget, according to Paul Dergarabedian, a senior media analyst at Rentrak, a market-research firm that tracks the movie business.
More than 300 theaters-many of them independent-rallied around the US to show the film beginning Dec 25.
The film took more than $1 million in ticket sales on the first day.