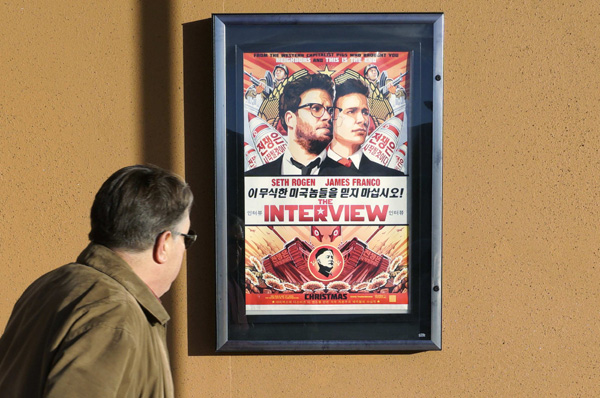 A man walks by the poster for the film "The Interview" outside the Alamo Drafthouse theater in Littleton, Colorado December 23, 2014. [Photo/Agencies]
LOS ANGELES - Amid a swell of controversy, Sony Pictures broadly released "The Interview" online Wednesday.
"It has always been Sony's intention to have a national platform on which to release this film," Sony Pictures chair and CEO Michael Lynton said in a statement. "We chose the path of digital distribution first so as to reach as many people as possible on opening day, and we continue to seek other partners and platforms to further expand the release."
"The Interview" became available on a variety of digital platforms Wednesday afternoon, including Google Play, YouTube Movies, Microsoft's Xbox Video and a separate Sony website, a day after Sony and independent theaters agreed to release it in over 300 venues on Christmas. The wide digital release is the culmination of a set of deals that have been in the works since the major theater chains last week dropped the movie that was to have opened on as many as 3,000 screens.
Kim Song, a DPRK diplomat to the United Nations, condemned the release, calling the movie an "unpardonable mockery of our sovereignty and dignity of our supreme leader."
Sony has not ruled out the possibility of screenings of the film by major theater chains, though their symbiotic relationship has eroded in recent days.
Decisions by Google and Microsoft to show the movie could open their sites to hacking. Microsoft reported technical problems with its Xbox sign-in system Wednesday, though it wasn't known whether it was the result of hacking. Microsoft declined to comment.