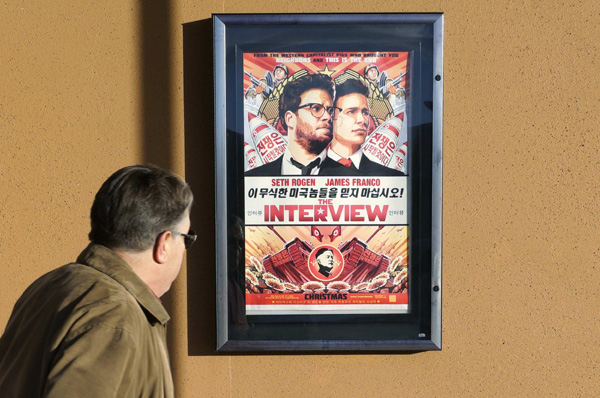 A man walks by the poster for the film "The Interview" outside the Alamo Drafthouse theater in Littleton, Colorado December 23, 2014. [Photo/Agencies]
NEW YORK - "The Interview" was put back into theaters Tuesday when Sony Pictures Entertainment announced a limited Christmas Day theatrical release for the comedy.
Sony Entertainment CEO Michael Lynton said the film "will be in a number of theaters" beginning Thursday. He said Sony also is continuing its efforts to release the film on more platforms and in more theaters.
"We have never given up on releasing 'The Interview,'" Lynton said in a statement Tuesday.
For Sony, the decision was the culmination of a gradual about-face: initially it says it had no plans to release the movie.
The film is set to open in over 200 theaters on Thursday, the day it was originally set for wide release.
Sony officials aren't commenting on whether the film will also be released to video on demand - another possibility. Starz, which has first pay TV and streaming rights to Sony releases, didn't respond to requests for comment. Streaming service Netflix declined comment, while YouTube didn't respond to requests.