Awaiting word from China on Sony hack
By Zhang Yunbi in Beijing and Chen Weihua in Washington | China Daily USA | Updated: 2014-12-23 12:29




As Washington continues to lobby China to put more pressure on Pyongyang, Beijing clearly stated its opposition to any form of cyber attack but has yet to make a final judgment regarding the hacking of US-based Sony Pictures Entertainment.
There may be a number of possible technical explanations behind the attack, experts said, and it is still too early for Beijing to form any conclusion before Washington shows tangible evidence.
US Secretary of State John Kerry briefed Foreign Minister Wang Yi on Washington's viewpoints about the cyber attack in a telephone conversation on Sunday.
China "opposes any manner of cyber attacks and cyber terrorism", the minister said, and added that Beijing is also "opposed to any country or any individual that launches cyber attacks via facilities in another country".
US media speculated last week that hackers could have taken advantage of the greater bandwidth in China to launch their attack.
"China is willing to embark on constructive cooperation with the international community to safeguard the peace and security of cyberspace on the basis of mutual respect and mutual trust," Foreign Ministry spokeswoman Hua Chunying said in Beijing on Monday.
The US FBI claimed on Friday that investigators had found what it called "enough information" to conclude that the Democratic People's Republic of Korea was "responsible" for the attack.
On Monday, US State Department deputy spokeswoman Marie Harf confirmed that Kerry has been seeking Chinese help on the issue. She said the US stands by the conclusion and urged the North Korea government to exercise restraint.
Harf accused North Korea of having "a long history of denying responsibility for destructive and provocative actions." "If they want to help here, they can admit their culpability, and compensate Sony for the damages that they caused," she said at the daily briefing.
Her words backfired when Matthew Lee, an Associated Press reporter, asked how she would characterize the US government record.
Over the weekend, North Korea denied any responsibility for the attack on Sony and has asked the US to apologize for linking it to the attack. North Korea has also offered to conduct joint investigation with the US on the issue.
Zuo Xiaodong, vice-president of China Information Security Research Institute, said Washington's decision to make public its accusations without offering any tangible evidence "may run against the spirit of science".
"As for servers of a private business, which are usually more vulnerable than governmental ones, the hacking may have been done by hackers acting on their own rather than a cyber army," Zuo said.
Earlier this month, Sony decided to cancel the scheduled Thursday release of the comedy movie The Interview, which depicts an assassination attempt on Kim Jong Un, leader of the DPRK.
In November, hackers accessed the Sony computer system and released some of the stolen data. The hackers threatened to disclose more Sony data if it went ahead with the release.
US President Barack Obama said in a CNN interview aired on Sunday that he regards the hacking as an "act of cyber vandalism" rather than an "act of war," while reiterating the US will respond proportionately.
On Monday, North Korea's links to the Internet went completely dark after days of instability, the New York Times reported.
Internet access to the North's official Korean Central News Agency and the Rodong Sinmun newspaper were working normally Tuesday after being earlier inaccessible, South Korean officials said. Those sites are the main channels for official North Korea news, with servers located abroad.
"If the attack was American in origin - something the United States would probably never acknowledge - it would be a rare effort by the United States to attack a nation's Internet connections. Until now, most operations by the United States have amounted to cyber espionage, mostly to collect defense information or the communications of suspected terror groups."
Contact the writers at zhangyunbi@chinadaily.com.cn and chenweihua@chinadailyusa.com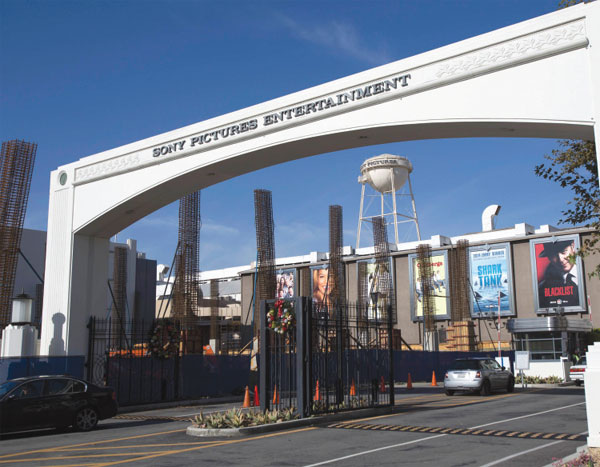 An entrance gate to Sony Pictures Studios is pictured in Culver City, California on Dec 19. US President Barack Obama said Dec 19 the US government expected to respond to the Sony hack, which he described as an expensive act of "cyber vandalism" that he blamed on North Korea. Mario Anzuoni / Reuters