Pollution fight calls for emissions cuts
Goal set for nation to meet new standards by 2018
Chinese auto manufacturers are being urged to reduce their vehicles' emissions to meet the country's new standards.
Last week, Guangdong province upgraded its emission standards for light vehicles to National V, which requires sulfur content in fuel to be no more than 10 parts per million, one-fifth of the National IV's 50 ppm.
The new standard applies to the provincial capital Guangzhou and eight other cities in the province. The move makes Guangdong the third place to apply the top emission standard in the country, after Beijing and Shanghai.
Huang Qingfeng, senior engineer at the Vehicle Emission Control Center of Guangzhou, said the emission standard upgrade required both the fuels and the vehicles' exhausts to meet the standards.
"The vehicle exhaust standard in Guangzhou came after the fuel upgrades. Fuel in Guangzhou has already been in line with the National V standard."
Both Beijing and Shanghai municipalities required that vehicles met the standards first then fuels. Beijing was the first city to apply the National V standard in September 2013, followed by Shanghai in April 2014.
Guangdong province started applying the National IV standard in August 2013. From March 1, all nine Pearl River Delta cities no longer registered number plates for National IV standard light vehicles and will cease to register National IV heavy-duty vehicles from July.
Last year Beijing authorities said that car exhausts accounted for 31.1 percent of PM2.5, airborne particles measuring less than 2.5 microns in diameter, because of the increasing number of cars on the road.
Emissions by heavy-duty vehicles, including trucks and buses, contain a large amount of particulate matter and nitrogen oxides, which are major sources of urban air pollution.
Yao Jie, vice-secretary general of the China Association of Automobile Manufacturers, told China Daily that Chinese auto manufacturers needed to invest more capital into research and development, reduce vehicles' fuel consumption and pollutant emissions and prepare for market competition to meet the rising emissions standards.
"China's auto manufacturers need to be more innovative to meet the government's rising standards on emissions," Yao said.
Liu Jun, intake and exhaust system section manager at Pan-Asia Technical Automotive Center Co, said high costs would be incurred each time an automotive company updated equipment for a new standard.
"A module would be added for upgrading and it costs several hundred yuan for each car. When a car model has 10,000-unit sales, the upgrade cost would be millions of yuan," he said.
Liu said: "A carmaker usually takes four or five years to get well prepared for a new emission standard. Even when working at a fast pace, it needs at least three years."
Leapfrog standards
The upgrading of emission standards in China was postponed several times previously because of petrol quality and a clash of views inside government.
Michael Walsh, chairman of the International Council on Clean Transportation, advised Chinese regulators to skip the phase V standard and jump to phase VI, as the Euro VI standard is on the way and the Euro V will soon be obsolete.
"If China skips phase V, the industry will have enough time to get prepared for the phase VI standard after implementing phase IV," he said.
There is no need for China to rush into phase V and then phase VI, according to Walsh.
The turning point was Premier Li Keqiang's emphasis on environmental protection in last year's Government Work Report, which encouraged local governments to apply National IV standards and put more effort into car exhaust control.
According to a report released by the National Bureau of Statistics on Feb 26, 90.1 percent of 161 Chinese cities failed air quality testing in 2014.
To control car exhaust pollution, the government is taking action to reduce auto-related nitrogen and sulfur emissions and plans to implement the National V standard in the whole country by Jan 1, 2018.
Ni Hong, new vehicle registration director at the vehicle emission control center under the Ministry of Environmental Protection, said there were flaws in the national standard and regulations. In the specified test for exhausts, some products passed. But the retailed products in the market are different versions with higher pollutants.
Zhejiang Geely Holding Group's Chairman Li Shufu supported the idea that stricter emission standards should be applied as soon as possible and said carmakers should avoid being the main source of air pollution.
He called for a transparent schedule for new standard upgrading as Geely has already prepared for the National V standard.
Li Shufu said if prices were increased, customers would choose lower price models with lower standards and higher pollutants.
He proposed an air quality law amid the annual session of the Chinese People's Political Consultative Conference, China's top political advisory body, which started on March 3. Several auto-related topics were proposed during the meetings last week.
Zong Qinghou, a member of the CPPCC, said car exhaust pollutants should be controlled by improving petrol quality, heightening emission standards of environmental protection and stricter controls on car exhausts.
Industry analysts said Chinese commercial vehicle manufacturers needed to make higher quality products that meet stricter emission standards and use less fuel.
China sold more than 23 million vehicles last year, which made it the world leader in terms of sales, with a rising rate of 6.86 percent.
Contact the writers at duxiaoying1@chinadaily.com.cn and haoyan@chinadaily.com.cn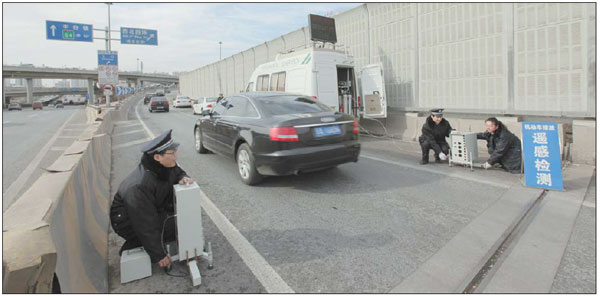 Staff members of the environmental protection bureau in Fengtai district, Beijing, examine emissions through remote sensing instruments. Ding Bangxue / For China Daily