Today at the two sessions, monk expresses annoyance at online misinformation, university president admits he moonlights, Beijing integrates surrounding area, and deputy calls for power to disclose government replies.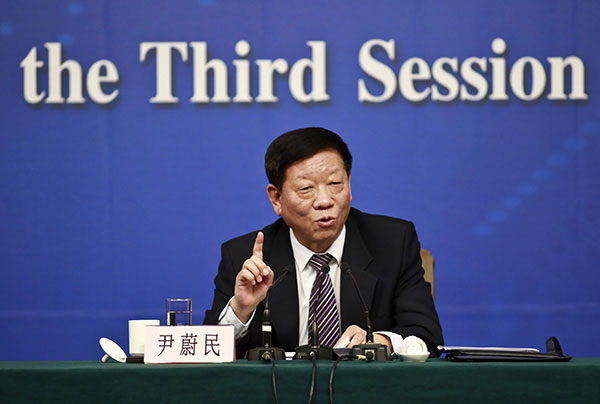 Yin Weimin, minister of human resources and social security, speaks at a press conference on the sidelines of the National People's Congress annual session in Beijing, March 10, 2015. [Photo by Feng Yongbin/China Daily]
Human resources minister meets press
China is faced with a more complex and arduous task of ensuring employment in 2015 against the backdrop of an economic slowdown, China's human resources minister said Tuesday.
About 15 million young students need to find jobs in 2015, consisting of 7.49 million college graduates and a similar number of those graduating from vocational, technical schools or middle schools, said Yin Weimin, the minister of human resources and social security.