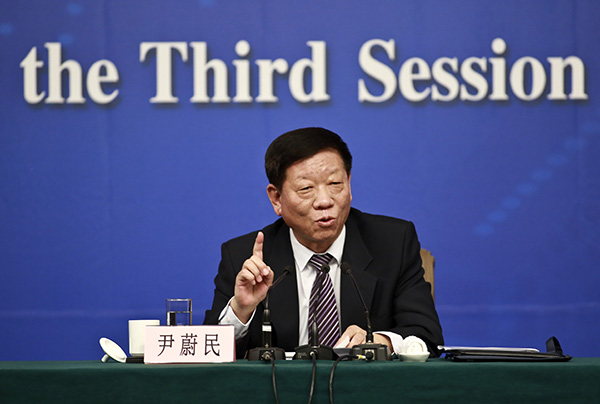 Yin Weimin, minister of human resources and social security, speaks at a press conference on the sidelines of the National People's Congress annual session in Beijing, March 10, 2015. [Photo by Feng Yongbin/China Daily]
Other highlights of the news conference
BEIJING - China's pension fund will come under tremendous pressure to break even in coming years and as such, the government needs to gradually raise the official retirement age to salvage the finances, a top official said on Tuesday.
Yin Weimin, minister of human resources and social security, said the government will gradually raise the official retirement age, which is as low as 50 for some female workers, but stressed that any policy changes will be phased in over five years.
He did not say when retirement ages will be raised.
Analysts have long warned about China's state pension crisis and the severe funding shortage, with some estimating that the cash shortfall could rise to as high as nearly $11 trillion in the next 20 years.
Yin said the finances were not as dire for the moment, but warned about challenges ahead.
"The pension fund faces tremendous pressure in terms of breaking even in future," he told reporters at a news briefing on the sidelines of the annual meeting of China's parliament.
The fund's income stood at 2.3 trillion yuan ($367.3 billion) in 2014, exceeding its expenditure of 2 trillion yuan for the year, he said.
But in coming years, the proportion of Chinese over the age of 60 will rise to 39 percent of the population, from 15 percent now, Yin said.
That would depress the dependency ratio - the ratio of the number of people younger than 15 or older than 64 to the working age population - to 1.3 from the current 3.04, he said.
As China's economy slows to an expected 25-year low of around 7 percent this year, Yin cautioned that the country's labor market will also face greater pressure.
Employment fell more year-on-year in January and February compared with the same two-month period a year earlier, he said, but added that he was confident China can still create more than 10 million jobs this year.
Chinese leaders have repeatedly said they will tolerate slower economic growth as part of the reform process so long as employment levels remain healthy.
Some officials have said the Chinese labour market held up last year despite the economic slowdown due to a fast-growing services sector, and brisk job creation in new emerging industries such as the e-commerce sector.
($1 = 6.2628 Chinese yuan)