Fifteen men charged following an accident that caused 10 deaths and four injuries last year stood trial at Beijing Haidian District People's Court on Friday.
On Dec 28, the upper tier of a building under construction in the High School Attached to Tsinghua University collapsed because of an imbalance in the reinforcing bars.
"The imbalance was attributed to 24 disorderly reinforcing bars on the upper tier, or they were not piled in accordance with the construction plan," said prosecutor Chen Chen.
"Under Chinese construction regulations, how to put up the reinforcing bars and what the reinforcing bar structure must be written out. But in this case, the complicated technical construction program was drafted by a young construction worker and he did not leave any written version of it," Chen said.
Fourteen defendants pleaded guilty during the case hearing for their dereliction of duty in the project, except Jing Xin, the man who drafted the construction plan.
Jing, 29, said that he had just got a construction qualification certificate a few months before he participated in the construction.
"I did what the experienced construction workers told me, and my aim during the project was to learn some new knowledge about construction," he said.
"I thought my job on the construction team was to help others tackle some problems, such as informing workers about notices and leaders' requirements. I didn't think I was given any right to make a decision."
"I drafted it based on a model obtained from the Internet and it was also read and revised by some other defendants," he said.
Jing's lawyer, who declined to be named, said that her client was green in the construction business, adding that what Jing did was not enough to commit a crime.
But under Jing's contract provided by the prosecutor, Jing's responsibility for the building plan and its written form had been clarified ahead of the construction.
Chen said that others also did not fulfill their duties in preserving the written version of the plan, adding that a series of derelictions of duty brought about the tragedy.
The court will hand down a verdict on another day.
caoyin@chinadaily.com.cn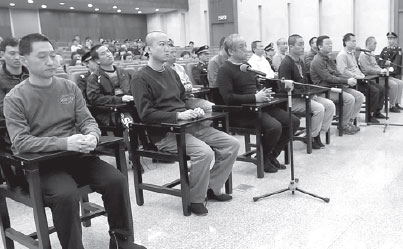 Defendants charged following a fatal accident last year stood trial at Beijing Haidian District People's Court on Friday. Li Sen / for China Daily
(China Daily 11/28/2015 page4)