Beijing's landmark Silk Street Market, where traditional souvenirs and knockoffs sit side-by-side, is looking to reinvent itself into an incubator for local, quality brands.
In a bid to redeem its reputation, the market has begun removing vendors who sell counterfeits and instead is inviting Chinese brands and designers to set up shop.
It hopes to shake off its former infamy and instead be known as a hub of originality.
The market's management said this transition is a recipe for success and said that it will expand to other cities in China.
Hu Wenli, the general manager, said that the market has taken several vendors to the western Chinese city of Xi'an and inland economic powerhouse Chengdu, two cities the management has identified as potential locations for new stores.
The market, located in the capital's central business district, opened in the late 1970s to cater to expats working in nearby embassies looking for cheap apparel and accessories.
While the Silk Street Market has secured itself a reputation worthy of being included alongside the Forbidden City and the Great Wall in "must-do" guides to the city, it has received negative coverage for tolerating merchants who sell shoddy knockoffs.
Several luxury brands have sued vendors and the market itself was asked to compensate for failing to effectively prevent such violations.
Over the past three decades, vendor numbers have been reduced from more than 2,000 to around 500, and the average retail space for each merchant has risen to 20 square meters.
"It is important that brands have the space and the environment to express their themes and values," said Jason Ding, partner at Bain & Company. "It's all about perception and lumping all your products on a crowded stall is a surefire way to comprise a brand's value."
China's large shopping malls and department stores are suffering as a result of the slowing economy and the rise of e-commerce, forcing many retailers to close their brick-and-mortar stores.
Smaller markets, where tenants sell cheap clothing to price-sensitive consumers, are also falling out of favor as more people become brand-conscious and shop for quality.
"Chinese garment makers have mastered the manufacturing process after years of making clothes for foreign brands, but what they need to work on the most in the future is to build brands and design,"Ding said.
Meanwhile, more such markets in Beijing are being closed as the city wants to get rid of nonessential institutions and low-end retail and wholesale markets.
Local regulators are also stepping up efforts to fight counterfeits. Silk Street Market has been expanding its business scope to traditional Chinese handicrafts, antiques and paintings over the years after vendors who sell fake products were evicted.
"The market is in a prime location," said Zhang Yongping, president of Silk Street Market Group, "only quality merchants deserve to be here."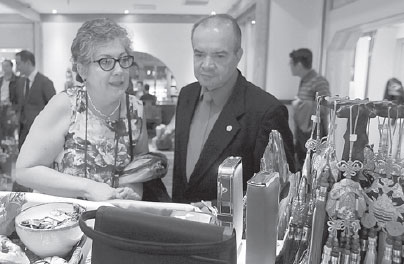 Tourists shop at a tax-rebate store at the Silk Street Market in Beijing in September. Provided to China Daily
(China Daily 11/28/2015 page2)