The former deputy head of the provincial environmental watchdog in Hebei has been charged with taking bribes along with another 10 officials, amid a tide of senior officials in environment authorities being accused of corruption since 2014.
Li Bao had taken advantage of his leading position since 2009 to get benefits from illegal trades such as helping an environmental technology company in bids for building 196 air quality monitoring stations, Procuratorial Daily reported on Tuesday.
He received property worth around 14 million yuan ($2.3 million) and $60,000 in cash, it said, adding that another 10 officials have been charged in the group corruption cases, and six of them worked in leading positions in provincial environmental protection department and its branches.
This is the latest reported case amid a rising tide of corruption involving senior officials in environment authorities nationwide.
In July, the former deputy minister of environmental protection, Zhang Lijun, 63, was held for investigation on corruption charges, the first ministerial level official in the environmental protection system to be investigated after the 18th National Congress of the Communist Party of China in 2012.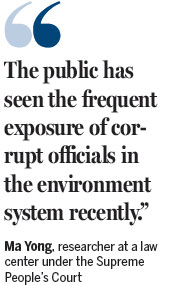 In addition, more high-level officials in this system have been investigated for corruption by using their power to get benefits from companies, such as Xiong Yuehui, former head of the ministry's scientific standards bureau, in August.
Since 2012, the environmental protection system has seen a great increase in the number of cases of officials violating laws and regulations, said Zhou Ying, head of the anti-graft body at the ministry. The number of investigated officials has increased from 646 in 2012 to 1,684 in 2014, she added, and more than 20 percent were charged with corruption.
"The public has seen the frequent exposure of corrupt officials in the environment system recently, demonstrating the high risk of corruption in this field," said Ma Yong, a researcher at a law center under the Supreme People's Court on Friday.
China has given greater powers to the environmental protection system through revised laws and regulations since severe pollution has become a major public concern.
The environment bureaus now have a greater voice in industrial production given their decisive role in granting companies an environmental impact assessment, which has led to some companies giving bribes to officials.
zhengjinran@chinadaily.com.cn
(China Daily 11/28/2015 page3)