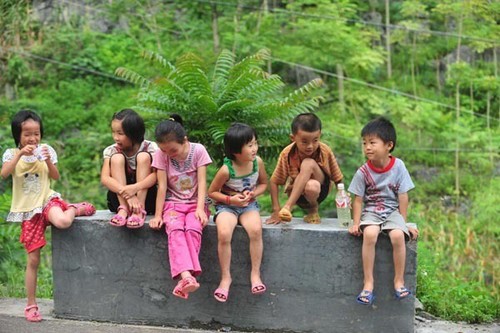 Qin Xiaohui (R) plays with the other children in his village on July 5, 2012. Qin Xiaohui, then 6, lives in Banlie Village of Bansheng Township in Dahua Yao Autonomous County, south China's Guangxi Zhuang Autonomous Region. [Xinhua]
The China Foundation for Poverty Alleviation has launched a project to hire and train 100 local women as substitute mothers to take care of left-behind children.
The three-year program will select 100 villages across Sichuan province and hire one woman in each village to take charge of all the local left-behind children.
The program, launched by the nongovernmental organization in late October, will eventually supervise approximately 35,000 children if it is successful.
"It is a model to solve the problem of left-behind children," said Liu Wenkui, secretary-general of the foundation. "The program aims to solve the lack of guardians."
"If parents are forced to leave home to earn a living and unable to take their children with them, we are looking for a transitional way to solve the problem," he added.
The "substitute mothers" will fulfill parents' obligations, finding out what the children need and helping them deal with problems.
Each substitute mother will take care of about 300 to 500 children, focusing on the 50 to 70 children who need her most, said Wen Huifang, the project manager.
A "children's home" will be established in each village to be the mother's office and children's activity space.
The program will also set up offices in each county to gather information from the "mothers" and help them to solve issues involving government departments.
"Their job will be to provide prompt service, discover the children's issues, report to the relevant departments and help to solve any problems," Wen said.
"The substitute mothers' role will be limited, but they will not be fighting alone. Officials from the villages and the county, as well as an expert team, will back them up," Wen added.
The program is hoping to recruit women aged 19 to 55 years old from the villages. They must have no criminal record.
"We want to hire full-time 'mothers' to guarantee they won't be distracted by other work," Liu said. "We want local candidates because they understand local languages and cultures."
In August, two left-behind siblings were killed at their home in Bijie, Guizhou province. Police discovered that the girl had been sexually assaulted before she was murdered.
"Left-behind children's tragedies may hit the front pages of newspapers for a few days, but when the stories go cold, people's attentions shift. The key to solving the problem is to establish a model to help them and prevent such tragedies," Liu said.
The program in Sichuan is a pilot scheme, and Liu said: "If it is a successful model, we will promote it nationwide."