High-profile figures from the media and advertising visit East Africa as part of bilateral efforts to stem domestic demand for illegally trafficked ivory and rhino horns. Chen Liang reports from Nairobi, Kenya.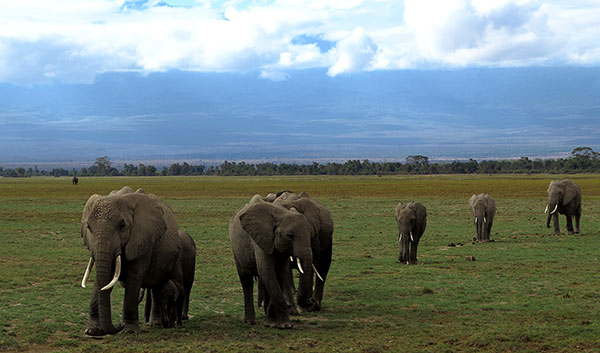 A herd of elephants in the Amboseli National Park, Kenya. The park is regarded as the best place in the world to see African elephants. CHEN LIANG/CHINA DAILY
To combat the illegal trade in African wildlife in China, especially in ivory, basketball player Yao Ming visited Kenya in 2012, while actress Li Bingbing traveled to the country in 2013.
For Grace G. Gabriel, Asia regional director of the International Fund for Animal Welfare, the visits were mainly fact-finding missions with one aim-to persuade Chinese citizens to say no to products made from elephant ivory and rhino horn in the hope of curbing the demand that fuels poaching in Africa.
While planning the international conservation NGO's China-Africa Wildlife Ambassadors initiative, the Chinese-American conservationist decided to make the project multidimensional.
In addition to showing the "unprecedented crisis of survival for African elephants" to the wildlife ambassadors, "we hope that these Chinese wildlife champions can mobilize Chinese nationals living in Africa to join the endeavor to conserve African elephants," she said.
In September, President Xi Jinping announced that China would take significant and timely steps to halt the domestic commercial trade in ivory.
"From the destruction of ivory to trade bans, China is determined to contribute to elephant conservation by eliminating the demand for ivory," Gabriel said.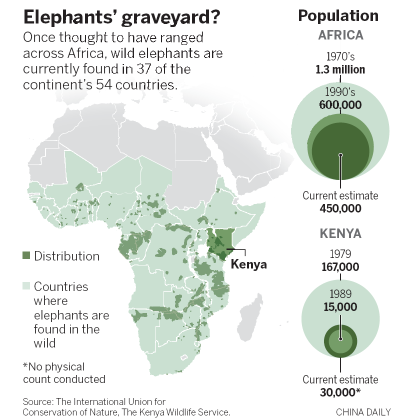 Free ad space
The IFAW launched the initiative by taking the first group of 11 Chinese wildlife ambassadors to Kenya between Nov 8 and 16. The delegates came from IFAW media partners, and included leaders of opinion, such as Zhang Yue, a popular anchor on China Central Television, who founded a grassroots animal welfare NGO in Beijing.
The media companies' provision of free goods and services, rather than financial contributions, is valued at tens of millions of dollars, and has helped the campaign penetrate 80 percent of Chinese cities during an eight-month period, Gabriel said.
The Tianjin branch of outdoor advertising specialist JCDecaux China, which has been cooperating with the IFAW since 2008, helped the NGO's public campaign to cover the local subway.
"As members of the media, we need to not only lead the public to reject wildlife products such as ivory, but also show them the beauty of the wildlife we need to preserve together," said Cheng Fengming, deputy director-general of JCDecaux China's Tianjin branch, during the Kenya trip. "We need them to understand that wildlife is worth more alive than dead."
Since January, Fulong Media, a private advertising agency in Beijing, has provided free space on trains for the anti-ivory campaign.
"People living in lower-tier cities are less knowledgeable about wildlife conservation than those in major cities," Zhao Xuming, Fulong's president, said. "I hope our efforts will alert more people and help them understand that the ivory trade is a really bloody business."
The delegation participated in a wildlife conservation forum during the 40th Africa Travel Association conference in Nairobi, the Kenyan capital, from Nov 9 to 14, and interacted with tourism industry representatives.
"We have come to Kenya with good wishes and in good faith to show the African people our determination to stop the illegal wildlife trade. In the future, we hope they will proudly show the world that where there are Chinese people, there is hope for animals," said anchorwoman Zhang Yue in a speech to the forum.
The delegates' efforts to raise public awareness at home impressed Kenyan officials related to wildlife conservation, local rangers and conservationists.