Beijing issues orange alert 31 hours ahead of expected gloom to help people prepare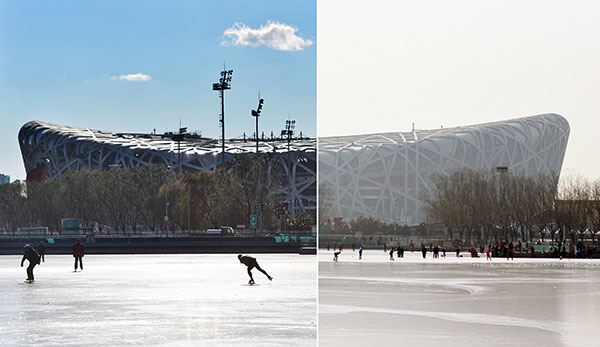 People enjoy the ice near the National Stadium, or "Bird's Nest", in Beijing under clear skies (left). By Sunday, the facility was shrouded in smog (right). GUO QIAN/CHINA DAILY
With a new round of smog likely to engulf Beijing and surrounding areas over the next three days, the city issued an orange alert-the second-highest warning level-on Saturday afternoon, 31 hours ahead of the expected gloom.
It was the second such alert issued within a few days, following a brief respite after last week's heavy smog was whooshed away by a cold weather front.
The early warning was issued "to better inform and help residents cope with air pollution, and to help polluted factories better prepare to reduce production", said Xue Jianjun, senior engineer at the National Meteorological Center.
Precipitation on Sunday night could dissipate airborne particles a little, but the pollution level is likely to peak on Tuesday and Wednesday, the center said.
According to the Beijing Municipal Meteorological Bureau, smog is likely to reduce visibility to 3 to 5 kilometers starting on Sunday. In some areas, visibility is likely to be less than 1 km.
"Factory discharges and unfavorable weather conditions-mainly slow wind speed and high humidity-are the leading factors in air pollution this time," Xue said.
The Ministry of Environmental Protection predicted that the dominant pollutant will be PM2.5-particles 2.5 microns or less in diameter that pose hazards to human health.
Schools are required to keep students indoors, and factories are required to limit or suspend output while the orange alert is active from Monday to Wednesday.
"Even though emergency measures do not necessarily eliminate the pollution, they can effectively reduce the peak level," Xue said.
To tackle the problem this week, updates on air pollution levels will be more frequent, and inspections of polluting factories will be strengthened, Minister of Environmental Protection Chen Jining said on Sunday.
How to deal with pollution
Residents, especially the elderly and young children, should minimize the length and intensity of outdoor activities and should wear a mask on smoggy days, said Zeng Xiaopeng, deputy director of the Beijing Center for Disease Prevention and Control.
When returning home, people should wash their faces and rinse out their mouths. They should also remove and store their coats to reduce contamination indoors, he said.
Residents should close their windows and minimize activities that pollute indoor air, such as cooking and smoking, he said, adding that air purifiers can be left on to reduce the density of harmful particles indoors.
Gu Qing, director of the Tianjin Center for Disease Prevention and Control, also suggested not wearing contact lenses because the air pressure is lower. In such conditions, contact lenses can prevent corneas from getting enough oxygen, which can cause discomfort.