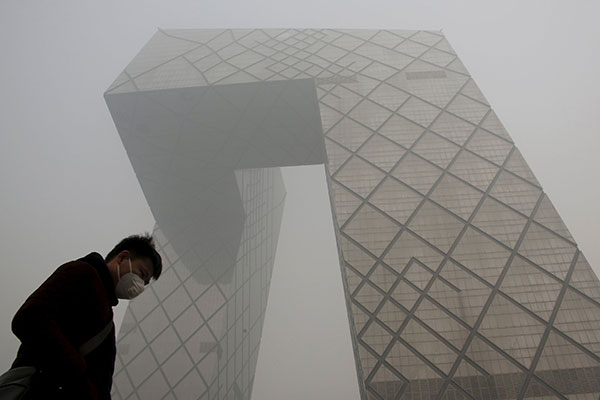 Smog shrouds the China Central Television building in Beijing on Monday, when severe air quality prompted the capital to order polluting industries to suspend production. [Photo/Agencies]
BEIJING - All elementary and middle schools in Beijing will have to suspend outdoor activities as the city issued another orange alert for smog next week.
Elementary and middle schools, kindergartens and extracurricular training schools should suspend their activities outdoors during the alert from Monday to Wednesday, said the city's Commission of Education on Sunday.
Classroom activities can be adjusted after being approved by the district-level education commission.
The recent smog which dissipated on Tuesday prompted the Beijing municipal government to issue its first orange alert, the second-highest level, which means construction sites must stop dust-raising activities while the elderly and the children are advised to stay indoors.
Some schools allowed students to choose whether to study at home or in school while Beijing Digital School is running classes online, according to the city Commission of Education.
The notorious air pollution suffered by Beijing and its surrounding areas is caused in large part by vehicle exhaust emissions and coal burning in heavy industries and municipal heating in winter.