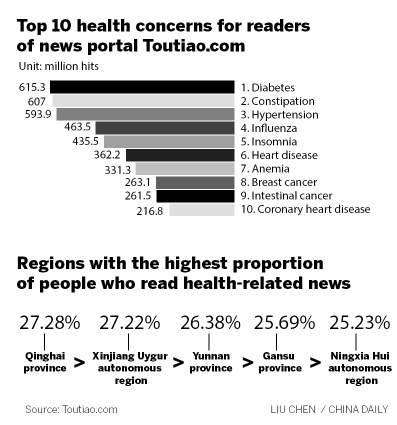 Weight loss, diabetes, cancer, nutrition and traditional Chinese medicine are among the most popular topics with Chinese people who habitually follow health news and information online, according to data analysis by Toutiao.com.
The project, supervised by the National Health and Family Planning Commission, was based on users' data between November 2014 and October 2015. There were 4.7 billion hits on health-related content on Toutiao.com during that time.
The site gathers the most relevant content for users by gradually learning what they enjoy through analysis of their online behavior. It now has 330 million users.
Health-related content is most popular with users aged 41 to 51, according to the analysis.
Mao Qun'an, spokesman for the commission, said most of the hits are from users in western China-Qinghai province, the Xinjiang Uygur autonomous region and Yunnan province.
Medical resources are relatively scarce there, so residents rely more on health information online, he said.
"Health education should be planned and conducted in an approach more appealing to the public with the help of the Internet and high technology," he said.
More women than men pay attention to health-related information, according to the analysis.
Nearly 30 percent of Toutiao.com's female users followed health content compared to 18 percent among males, it showed.
Hot topics include weight loss, fitness, food/nutrition and TCM, and various diseases like cancer, diabetes and hypertension.
Diabetes tops all diseases in public attention and garners more than 600 million hits of related content, it found. Cancers of various types came in second.
Interestingly, weight loss information recorded the highest number of hits in April and May-more than 51 million-right before the summer, when it's hard to hide excess weight under heavy clothes.
The parts of the body getting the most concern are the abdomen and thighs. Losing fat on the abdomen got more than 76 million hits.
Among exercises, information on running was read most, with more than 52 million hits, followed by yoga, jogging and situps, it showed.