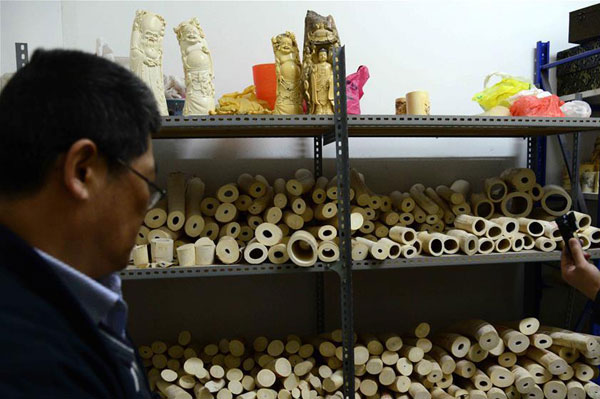 File photo of piles of ivories, ivory products and semi-finished ivory articles busted in a backroom of a rented factory house in Southeast China's Fujian province.[Photo/Xinhua]
Police in East China's Jiangxi province have seized more than 600 kilograms of illegal ivory and ivory products after a one-year crackdown, it was announced Wednesday.
The seizure is worth an estimated of 22 million yuan (around $3.5 million dollars).
In early November last year, 22 crafts weighing more than 13 kg were found in the trunk of a vehicle in Lichuan County, Fuzhou City of Jiangxi. They were sent to an evaluation center and confirmed to be made of ivory.
The suspect caught at the site revealed the products were set to be transported to East China's Fujian province.
Police travelled to seven provinces including Fujian, Hunan and Guangdong over the past year and dismantled an illegal chain of ivory smuggling, processing and trading.
They caught an ivory processing factory owner in Fujian and seized more than 500 kg of ivory and ivory products at his plant.
Further investigation is under way.
China has intensified efforts against illegal wildlife trafficking. Anyone involved in the illegal ivory business is liable to punishment ranging from six months of imprisonment to a life sentence.