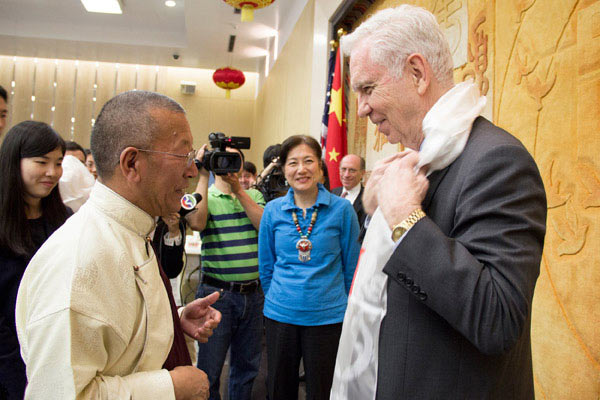 Living Buddha Shingtsa Tenzinchodrak (left) presents a Tibetan Kha Ta to US-China Partnerships Chairman Charles Foster (right) and while Foster's wife and actress Lily Chen Foster looks on. [Photo by May Zhou/China Daily]
Authorities are setting up a database of legitimate Living Buddhas in China and will publish the information online, according to an official at the country's top political advisory body.
This will enable followers of Tibetan Buddhism to distinguish between real Living Buddhas and fake ones, the official said.
Some fake Living Buddhas have posed threats to national security, as they use money they collect to sponsor illegal or even separatist activities in Tibet.
This was disclosed by Zhu Weiqun, chairman of the Chinese People's Political Consultative Conference's Ethnic and Religious Affairs Committee to China Central Television during the weekend.
There have been reports of fake Living Buddhas cheating people out of their savings or luring them into sexual activities using religious practice as an excuse.
Zhu's comments follow video footage of Baima Aose, a self-proclaimed Living Buddha, "ordaining" actor Zhang Tielin as a Living Buddha at a ceremony in Hong Kong in October. The footage has gone viral on the Internet.
Baima Aose said he became a Living Buddha after a Living Buddha at Katuo Monastery in Sichuan province's Garze Tibetan autonomous prefecture ordained him in Hong Kong in 2012.
On Sunday, the monastery denied his claim. It also said Baima Aose altered the contents of a letter in the Tibetan language addressed to him from another Living Buddha at the monastery to make people believe the letter certified his status as a Living Buddha.
He deceived Han Chinese followers who don't understand Tibetan and twisted the facts, damaging the monastery's reputation, according to a statement issued by the monastery.
Baima Aose, 39, is from Quanzhou, Fujian province. His original name was Wu Darong and he moved to Hong Kong when he was 8 years old. He is now chairman of the World Trade United Foundation, registered in Hong Kong, and Zhang, the actor, is the first vice-chairman.