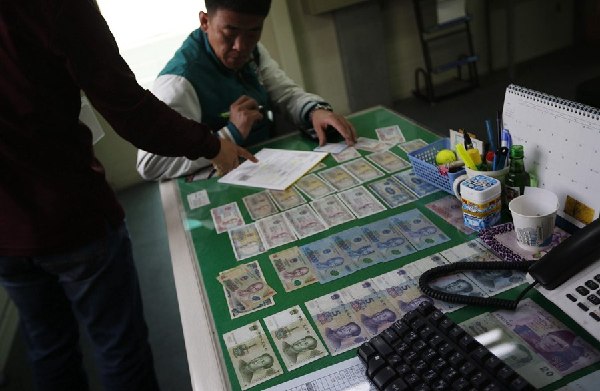 A Chinese applicant fills in application forms for South Korean driver's licenses as Chinese Yuan are seen among the banknotes of various countries banknotes on a desk at a driving school in Siheung, South Korea, March 27, 2014. [Photo/Agencies]
China's top transportation and security authorities have announced changes in the rules on getting a driver's license, aiming to cut the red tape for driving training and applying for a license.
A guideline on regulation changes about training and tests for license candidates was jointly issued on Thursday by the ministries of transportation and public security. A pilot program will be used in designated areas to test the new policies, which allow candidates to apply for the test and complete necessary training without going to a driving school.
Candidates now must rely on a driving school to apply for a test after they receive mandatory training at the schools.
"Irregularities and corruption have been found in driving training and tests. In some cases, driving training schools fail to provide high-quality lessons, but they collude with the issuing authority of driver's licenses and agree to under-the-table deals," said Liu Zhao, director of the Public Security Ministry's Traffic Management Bureau.
"The number of candidates has increased by 15 percent annually over the past 10 years. However, some training services cannot reach the standards set by the tests," Liu said, adding that the newly issued guideline is intended to resolve the problems.
By the end of last year, China had 13,000 driving training schools, 750,000 coaches and 620,000 coach vehicles.
The adoption of new measures will greatly reduce the complex procedures in applying for a driver's license and remove barriers for the applicants to take tests, said Li Rui, a law professor at People's Public Security University of China.
"More important, such measures will give applicants more freedom and reduce their costs to get licenses, while urging the training schools to provide high-quality training service," she said.
Xie Zhiyong, a law professor at China University of Political Science and Law, said: "The guideline will break up the monopoly of driving training centers and cut off the corruption interest chain between them and the issuing authority of license.."
The guideline will increase the liability of driving schools by stipulating that a review of the issuing process must be administered when a license holder is responsible for a major traffic accident within three years of the issuing date. The schools will be held accountable if it is found that they helped driving candidates cheat to pass the tests.
The document allows people to use their own vehicles to practice driving, when supervised by a coach, under the condition that coaching equipment approved by public security authorities is installed in the vehicles and practice is conducted on designated routes.