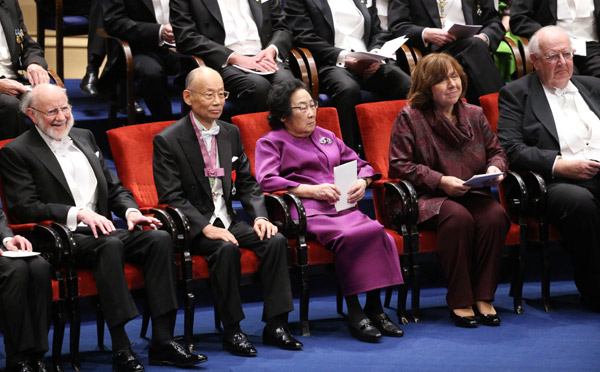 Tu Youyou (C), joins fellow Nobel Prize laureates in Physiology or Medicine (from left) William C.Campbell from Ireland, Satoshi Omura from Japan and Nobel Literature laureate Svetlana Alexievitch from Belarus at the prize award ceremony in Stockholm on Thursday. [Photo/Agencies]
The Nobel Prize in Physiology or Medicine won by pharmacist Tu Youyou will help boost the development of traditional Chinese medicines, according to a senior health official.
Tu, from the China Academy of Chinese Medical Sciences, was due to receive the award on Thursday in Stockholm, Sweden, for her discovery of artemisinin, a TCM that can cure malaria.
Her success has led to a promising approach to the modernization and development of TCM through science and technology, said Cao Hongxin, the science and technology chief of the State Administration of Traditional Chinese Medicine.
Cao used to be head of the academy.
Using a pioneering low-temperature method, Tu and her team-first extracted artemisinin from a sweet wormwood plant more than 40 years ago. Their efforts have saved tens of thousands of lives each year.
Cao said Tu was inspired by many ancient classic works on TCM touting sweet wormwood as a candidate for the development of an antimalarial drug.
Her success demonstrates that "TCM... has to embrace modern technologies and laboratory tools and, more important, stick to the essence of the time-honored medical science", he said.
"A simple application of Western medical standards to TCM won't work," he said, calling for more research and standards for TCM.
He cited as an example that the international standards for acupuncture needles and the use of ginseng have been set by China.
Cao said Tu's Nobel Prize will prompt more basic scientific research into ancient TCM texts and ways to explore research findings.
China spends more than 1 billion yuan ($156 million) annually on TCM-related research, and "that investment will be further strengthened", Cao said.
"Deepened research with the help of modern technology will lead to the modernization of TCM," he said.
But he added that much remains to be done, particularly practicing innovation when using TCM theories, studying old TCM texts and transforming or commercializing research findings.
He said this work will be listed in China's 13th Five-Year Plan (2016-20) for TCM, and his administration is working on it.
In five years, the use of TCM will be further explored in the rehabilitation, prevention and treatment of HIV/AIDS, chronic liver infections and diabetes, he said.