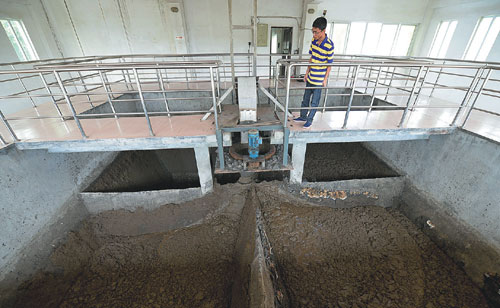 Sludge in a storage facility at a sewage plant in Liuzhou in the Guangxi Zhuang autonomous region. Li Hanchi / Xinhua
The country's waste-treatment plants produce thousands of metric tons of sewage sludge every day, but a lack of funding for advanced processing means illegal dumping is rife and poses a potential safety threat to farmland and water sources. Zheng Jinran reports.
Every day since early March, Ma Xiaoxian, head of the Environmental Protection Enforcement Bureau in Shaanxi province, has been following trucks carrying sewage sludge in an attempt to find out where the waste is taken after processing. What he discovered left him deeply troubled.
Sewage sludge is residual, semi-solid material produced as a byproduct of the treatment of industrial or municipal wastewater.
In Xi'an, the capital of the northwestern province, around 600 metric tons of sewage sludge simply disappears every day, and Ma suspects that contractors are disposing of the pungent waste randomly, by dumping it on the side of the road, in villages and even on farmland.
In January 2009, the US Environmental Protection Agency's National Targeted Sewage Sludge Survey found that sewage sludge usually contains high concentrations of toxic elements, such as heavy metals from the atmosphere and water, steroids excreted by humans and "factory" animals, worm eggs and other substances that remain after treatment.
"If we are unable to control the disposal of sewage sludge, all the time and effort expended in processing sewage will be in vain, because it will not protect the environment," Ma said. "The rain can easily wash hazardous materials from the sludge, and that material then leaches into the soil and contaminates the environment."
The threat of pollution from sewage sludge is a problem facing Beijing as well, according to the Ministry of Environmental Protection. In August, the ministry said treatment plants operated by the Beijing Drainage Group, the capital's biggest provider of sewage-processing services, were only able to process about 10 percent of the 2,800 metric tons of sewage sludge produced every day.
The remaining 90 percent is either partially dried or piled in the open in the company's yards, emitting a fetid odor and posing a contamination risk for underground water sources.
According to Chen Zhenggao, minister of housing and urban-rural development, only about 50 percent of the sewage sludge produced every day in China is dealt with correctly, by being dried or burned as fuel. As only 33 percent is stored at temporary sites before further processing, the remaining 17 percent is subject to random disposal, and there are no records of its whereabouts, Chen said.
Sewage processing plants in urban areas generate 76,000 tons of sludge every day, Chen told national legislators at a meeting about water pollution controls on Aug 29. As a result, sewage sludge now poses a growing threat to China's water security.