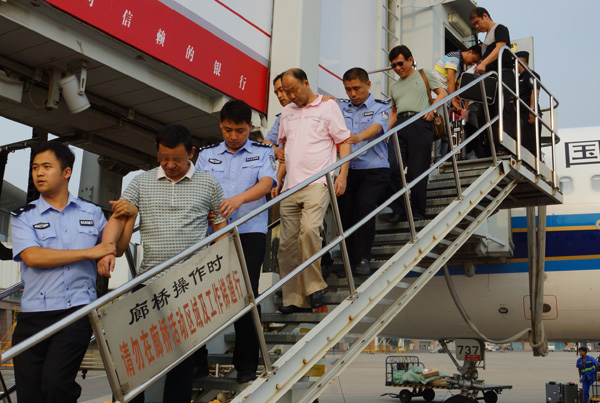 Two economic fugitives (second and fourth) are repatriated on Aug 3, 2014 from Cambodia after fleeing overseas with illicit assets. [Photo/China Daily]
In the latest case, 64-year-old Huang Yurong, the former Party chief of the Henan Provincial Highway Administration, surrendered to police on Sunday and returned voluntarily from the US13 years after she fled China.
Law enforcement officers from China and the US collaborated on the case-in which Huang is suspected of bribery-since the end of last year.
"No matter where the fugitives have fled, we are firmly resolved to capture them and bring them to justice," Liu said.
LiuDong, deputy direct or of the Economic Investigation Department under the Minis-try of Public Security, said the US, Canada and Australia have become popular destinations for suspected corrupt Chinese officials, due to legal differences and a lack of extradition treaties.
A number of suspected corrupt officials have transferred illegal assets worth millions of yuan to foreign accounts through money laundering and underground banks, he said.
Apart from the "Sky Net" campaign, the ministry has been working closely with the People's Bank of China to monitor the suspicious flow of funds remitted to foreign accounts. It is also enhancing supervision of offshore companies and cracking down on underground banks to prevent suspected corrupt officials from sending assets abroad illegally.
The ministry says that between April and the end of November, police smashed more than 150 underground banks and arrested about 300 suspects. They seized about 800 billion yuan in illegal funds.
Liu Jianchao said that nearly half of the fugitive officials are still on the run in countries including the US, Canada and New Zealand.
"These countries are our priority, so we must beef up judicial cooperation with our counterparts there," he said.
He added that China has common interests with these countries in fighting corruption and safeguarding national interests.
These nations are "willing to help China to uncover more commercial bribery cases and refuse to offer safe havens for corrupt Chinese officials", Liu Jianchao said.
China and the US have reached agreements on "some major cases", he said, adding that talks are underway between Chinese police authorities and their counterparts in Canada, Australia and New Zealand to hunt the fugitives.
"With enhanced judicial cooperation, the fugitives' happy days abroad will soon be gone," he said.