Northeast hit hardest by smog; Shenyang worst among 74 cities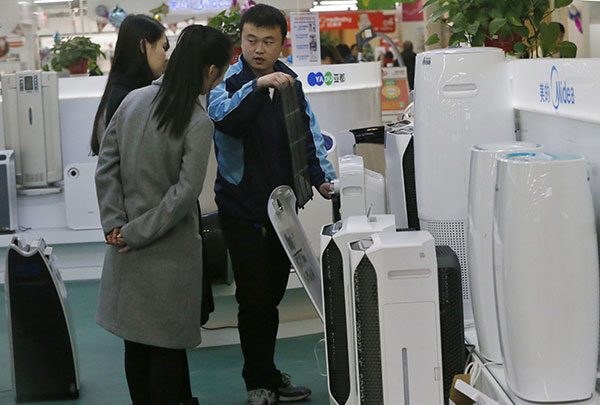 Besides buying for their own families, many residents in Beijing now purchase air purifiers as gifts for other relatives and friends as frequent smog strikes this winter. CAO BOYUAN/CHINA DAILY
Recent spells of severe smog engulfing northeastern and northern regions of China contributed to November's alarming rise in pollution levels, according to the nation's top environmental watchdog.
Beijing saw its readings of PM2.5-hazardous particulate matter smaller than 2.5 microns in diameter-soar to 118 micrograms per cubic meter on average in November, a year-on-year increase of 39 percent, according to the monthly report released by the Ministry of Environmental Protection on Sunday.
The city saw four more days with heavy pollution in November compared with the same period last year, it said.
In November, Shenyang in Liaoning province had the worst air pollution among the 74 major cities in the nation, said Luo Yi, head of the ministry's environmental monitoring department.
The other two northeastern provinces-Heilongjiang and Jilin-also saw their capital cities listed in the top 10.
The three provinces were blanketed by heavy haze in the first two weeks of November due to the start of central heating services, which consumes large quantities of coals.
The extreme readings of PM2.5 have surged to around 1,400 micrograms per cubic meter in Shenyang. The national safety level is 75.
In addition to the three cities in the northeast, the seven other cities were in the northern region, especially from Hebei province.
Among the 11 cities in the Beijing-Tianjin-Hebei area, eight had more than 15 days with severe air pollution, including Beijing, Luo said.
From Nov 27 to Dec 1, this cluster of heavily polluted cities was engulfed by choking smog, where the PM2.5 readings reached 1,000 micrograms per cubic meter.
On Nov 30, heavy smog covered 70 cities, an area of more than 530,000 square kilometers, similar to the land area of France, it said.
The ministry said soaring coal consumption from heating plants was the major reason for the alarmingly severe smog.
While the Ministry of Housing and Urban-Rural Development, the authority in charge of urban infrastructure construction, including the heating facilities, said vehicle exhaust fumes were the largest contributor to the air pollution.
Researchers agreed that coal consumption and vehicle exhaust fumes are the major sources, but they are spilt on which one is the prime culprit.
Chai Fahe, deputy director of the China Research Academy of Environmental Sciences, said the reason lay in soaring coal consumption during the winter heating season and widespread use of low-quality coal in rural areas, and urged the authorities to improve the energy consumption structure with more environmentally friendly sources such as gas.
Vehicle exhaust fumes also played a major role in worsening the pollution on smoggy days, said Wang Yuesi, a researcher at the Institute of Atmospheric Physics of the Chinese Academy of Sciences.