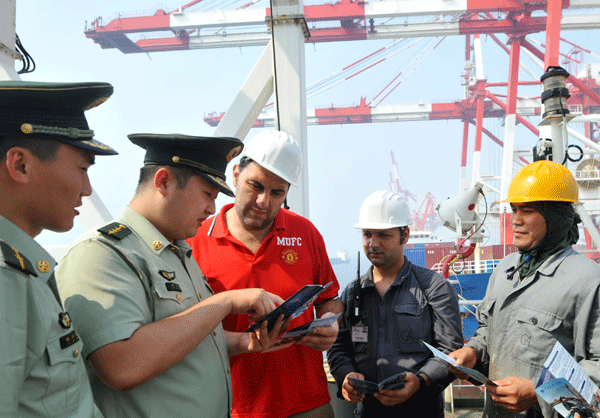 Officers from a border check station's legal aid service department talk to sailors on board an Italian vessel about China's entry and exit laws. The Bayuquan border check station is the first of its kind in Liaoning province to establish the legal aid service in order to ease conflicts. [Photo/Xinhua]
An increase in the number of lawsuits lodged by foreigners has prompted China's top court to consider how it might provide legal services in English.
Such a move would help those filing disputes that typically involve commerce, property and marriage.
Some courts in coastal areas have already formed connections with translators to help foreigners file lawsuits, but more assistance is needed, said Jiang Qibo, chief judge of the Case-Filing Tribunal at the Supreme People's Court.
"It is necessary to establish an English lawsuit service platform nationwide, and we are considering this," Jiang said.
Ada Jen, an administrator at a Beijing international school who comes from the United States, said it is difficult to resolve disputes, "because few resources about Chinese laws and legal procedures are translated into English".
"As I dealt with cases in China, I had to turn to educational institutions such as Peking University to interpret judicial documents," said Jen, adding that she is looking forward to seeing the English platform set up.
Jiang said courts in the Pudong district of Shanghai and in Yiwu, Zhejiang province-two areas where foreign investment is increasing-have taken measures to better serve litigants in English.
"These courts have built up an interpreter database to serve and guide foreigners who file cases. Judicial documents in English can be supplied for foreigners," Jiang said.
Some courts in these areas are also providing legal services in Arabic, he said.
"We'll study examples of serving foreigners from these courts and try to establish a unified lawsuit service platform in English and extend it across the country to satisfy foreign litigants promptly," Jiang said.
He added that this idea is still being studied and has not been put on the agenda for action.
Under Chinese laws, foreign litigants have the same rights as citizens in lawsuits if their disputes occur in China.
Jiang said: "Some foreigners or foreign enterprises in China have their own lawyers or legal consultants, who can communicate with courts in Chinese and know Chinese judicial culture. I think this can help solve the problem, as the foreign judicial service platform cannot cover all regions."
Tian Lan, vice-president of Hefei Intermediate People's Court in Anhui province, said the court has no special connection with interpreters, "but we can provide legal services as well as courts in areas where foreign-related cases are booming.
"If foreign litigants are without Chinese lawyers, volunteers from universities will guide them in filing cases. Meanwhile, some judges who have studied abroad can also help them when they are not busy hearing cases."
Zhang Haiqing, chief judge of the Hefei court's Case-Filing Tribunal, said foreign litigants can first submit judicial material, including identity certificates, online, "and we'll file their case after verifying the documents".
She added, "We'll add some English signs, brochures and guidelines to our court, making the legal procedures clearer."