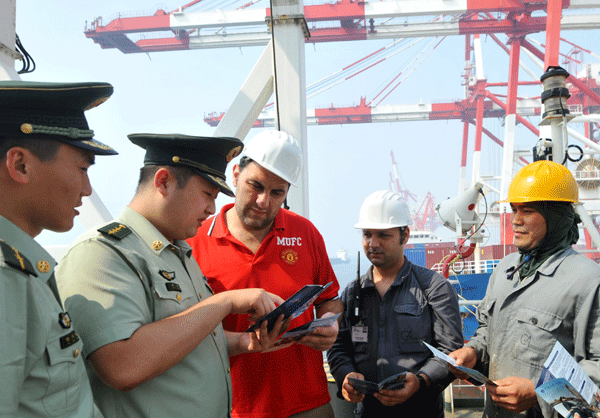 Officers from a border check station's legal aid service department talk to sailors on board an Italian vessel about China's entry and exit laws. The Bayuquan border check station is the first of its kind in Liaoning province to establish the legal aid service in order to ease conflicts. [Photo/Xinhua]
Changes to nation's criminal laws mean a greater number of foreign nationals are eligible for free legal aid when they go to court, as Zhang Yan reports from Lincang, Yunnan province.
'If the Chinese lawyer hadn't actively defended me, I would have been executed rather than receiving a lenient sentence, considering the amount of drugs seized and the serious harm (they could have done)," said Theodoros Kourtidis with tears in his eyes, after his conviction for transporting heroin in Yunnan province.
Speaking at a detention center in the Yunnan city of Lincang, the remorseful 50-year-old Australian said: "I didn't expect the Chinese government to assign a lawyer to provide free legal services, or that the judicial organs would pay attention to the protection of my legal rights."
Kourtidis was convicted in Lincang City Intermediate People's Court in July and sentenced to life imprisonment. However, the case dates back to January, when he drove a rented car from Guangzhou, capital of Guangdong province, to Lincang, where he purchased a large quantity of heroin, according to the Yunnan Provincial Legal Aid Authority.
As he started out on his return journey to Guangzhou, Kourtidis was detained by police as he passed through a security checkpoint. The police discovered 2,775 grams of heroin tied around his waist.
In March, the Lincang Legal Aid Department appointed Zhang Zhengyi, an experienced lawyer, to provide legal aid to Kourtidis.
"He didn't understand the laws and legal procedures in China, and in the beginning he didn't trust me at all, and even resisted me," Zhang said.
Kourtidis said that because of the language barrier and differences in legal procedures, he felt desperate and helpless after being detained by the Chinese police.
"I was even worried that the police would torture me, and the lawyer would collude with them to force me to confess. But I was totally wrong. The female lawyer was very nice and patient, and informed me about my legal rights when she met with me in the detention center," he said.
Zhang visited the local prosecutors' department and court several times to review the case files, and also actively exchanged views with the prosecutors and judges, according to Kourtidis.
In July, the court "adopted some of the lawyer's defense opinions and gave me a lenient sentence, rather than the death penalty", he said. "I hope good behavior in prison will give me a chance to begin a new life with my only daughter and my elderly father in Australia," he added.
Rising numbers
Kourtidis was just one of the 1,000 foreign offenders, mostly related to criminal cases, who received free legal aid services in China last year, an increase of 20 percent compared with 2012.
Since amendments to the Criminal Procedural Law took effect in early 2013, China has widened the scope of free legal services available to convicted foreigners, including those sentenced to death or life imprisonment, and for those in financial difficulty. Previously, only prisoners who had been sentenced to death were eligible to receive free legal aid.
At present, there are 68,318 legal aid departments at the provincial, city, township and village levels, and about 200,000 lawyers across China are obliged to provide free legal aid to foreign criminals.
"If they don't have a defense lawyer, we will ask the local legal aid department to appoint an experienced lawyer to defend them and fully protect their human and legal rights in China," Sang Ning, deputy director of the Legal Aid Center at the Ministry of Justice, said.