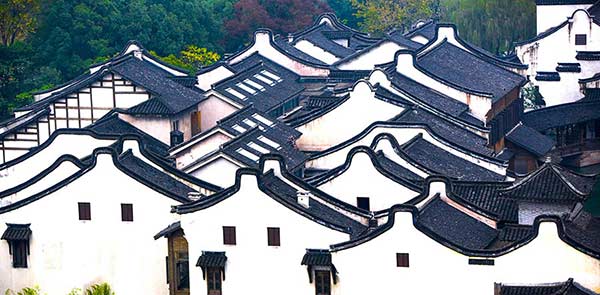 Architecture of Wuzhen. [Photo by Geng Feifei/China Daily]
It took Wuzhen just 30 years to turn from a remote quiet town with its newly first built road to reach the outside world into a test field covered with Internet-oriented services and a hotspot for people from around the globe to connect.
Wuzhen, a water town in Zhejiang province, is about to welcome nearly 2,000 participants from 120 countries to attend the Second World Internet Conference, the largest and most high-profile Internet-related event, from Dec 16 to 18.
About 50 percent of the guests will be from overseas, including eight foreign leaders and nearly 50 minister-level officials.
Wuzhen, chosen as a permanent place to hold World Internet Conference last year, won the honor due to its Internet economy and traditional culture.
The town is a perfect demonstration of how Internet technology will effect and help people's lives.
Wi-Fi
Wuzhen has more than 2,600 Wi-Fi signal spots for people to access Internet, even in toilets, reportedly the most Wi-Fi-concentrated area in Chinese mainland.
In Wuzhen, leaving home without wallet is fine as online mobile payment method is mature and popular while it's just a new thing in big cities such as Guangzhou.
QR code
On the busiest road in the town, where dozens of hostels, inns and restaurants are located, QR codes are the trending name cards to attract business.
After scanning the QR codes in a few seconds, visitors can access hotels' web page with information like telephone number, introduction, online booking, address and customers' comments in no time.