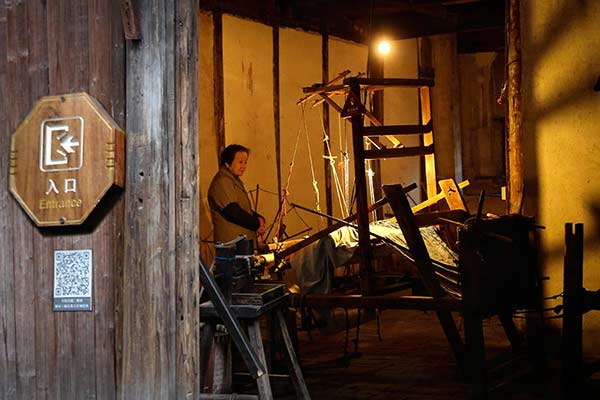 An ancient textile machine. [Photo by Geng Feifei/China Daily]
APP
It's not just tourists who benefit from the town's high-tech development.
Wuzhenminqing, or resident affairs in Wu Zhen, an app that also has an official account on WeChat, is an efficient platform for local villagers to ask help or communicate with local government.
Both of the social platforms are run by Construction Management Committee of Wuzhen International Tourism Zone in Tongxiang city.
Li Hangyu, a local village official, has received requests from villagers who sent questions on the app.
A villager's car was blocked by other cars and couldn't be moved out. Instead of waiting, he took a picture of the situation and sent it to the app asking for help, reported zjol.com.cn on Sunday.
Li soon received a message and contacted the transportation authorities to deal with the issue. In half an hour, the cars were moved away.
Li said: "With this app, we can answer villager's help 24/7 no matter where we are, which highly improves the efficiency."
The app, the first township app in China, has its test run since the beginning of the year to serve over 4,000 villagers. Skipping all the low-efficient application process that people may need to run several offices, the app provides villagers all the services online in real time to save time.