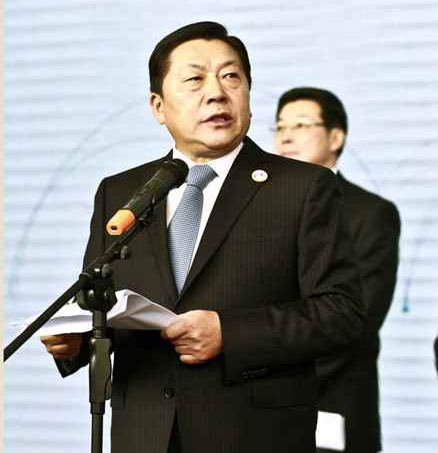 Lu Wei, minister of the Cyberspace Administration of China, delivers a speech at the opening ceremony of the "Light of the Internet" expo in Wuzhen, Zhejiang province, Dec 15. [Photo/Provided to chinadaily.com.cn]
China will keep its Internet industry open to the world while defending cybersafety according to the law, the head of the country's Internet regulatory body said on Tuesday.
Economic opening-up and effective governance of the Web by law have played key roles in the growth of China's Internet sector over the past two decades, said Lu Wei, director of the Cyberspace Administration of China.
"China will never close the door to the rest of the world," he said. "We will learn the latest technologies and experience to build a win-win Internet world."
Lu's remarks, made ahead of the Second World Internet Conference, which opens in Wuzhen, Zhejiang province, on Wednesday, come amid increasing concerns in China over cybersecurity.
The nation, which has about 670 million Internet users, or one-fifth of the world's total, has been a top target for a wide range of Internet-based crimes including data theft, online pornography and illegal gambling.
Zhao Houlin, secretary-general of the International Telecommunication Union, an information and communication technologies agency under the United Nations, said China has much to offer in solving Internet security issues with the rest of the world.
"China's experience in developing the Internet industry and methods to increase the Internet penetration rate are valuable assets for the world in building a better connected Web," Zhao said.
He also called on the major players in cyberspace to solve disagreements, despite tensions remaining.
"Each country has its own right to deploy Internet services. ... There is no fixed single mode we can follow. We should encourage countries to develop their own Internet services suitable for their own environments," Zhao said.
Zhao encouraged China and the United States to try to reach a "compromise agreement" so that both can shift their focus to widening the global Internet market.
Li Xiaodong, director of the China Internet Network Information Center, an organization responsible for allocating online resources such as website domains, said that as long as China's online data is well protected, its Internet market is wide open to the world.
China needs to introduce laws to govern the sector and tackle illegal acts that violate user privacy and intellectual property rights, Li said.
The government's move to better regulate cyberspace has been hailed by Internet companies.
Zhang Songqi, a senior planner at the We Doctor Group, which operates a hospital network that offers medical advice to patients online, said data safety is a top priority for Internet-based hospitals. "To some extent, data security is more critical for us than the services we provide today," Zhang said.
Shi Jing contributed to this story.