State Council office says transparency helps world better understand country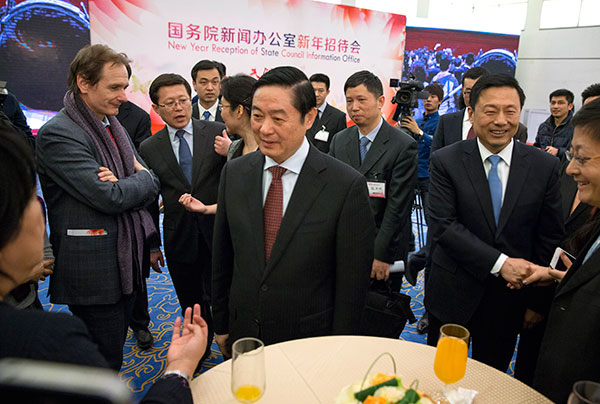 Liu Qibao, head of the Publicity Department of the CPC Central Committee, meets with participants at the New Year reception hosted by the State Council Information Office at the National Museum of China on Thursday. XU JINGXING/CHINA DAILY
China's top information office has held a record number of news conferences this year on key issues that have drawn worldwide attention. In 2016, it will be even more open and release valuable information on changes and development in China, the head of the information office said.
"The State Council Information Office has held about 120 news conferences in 2015. On average, there is a news conference about every three days. The number would reach more than a thousand if you include the news conferences held by different ministries," Jiang Jianguo, minister of the State Council Information Office, said on Thursday.
While addressing a New Year reception in Beijing for more than 300 representatives from major world news agencies, diplomats stationed in Beijing and spokespeople from central departments, legal authorities and ministries, Jiang said that only the release of transparent, detailed information can answer the world's questions about China and help global communities understand the country.
Jorgen Lohne, Asia correspondent for the Norwegian newspaper Aftenposten, said that in 2016 he wants to know more about China's initiative on alleviating poverty. "I also want to know how China reacts to the economic slowdown and, of course, how to deal with pollution," Lohne said.
He said the most popular story he published this year was about how Northwest China's Xinjiang Uygur autonomous region, an important stop on the ancient Silk Road, has positioned itself for the Silk Road Economic Belt proposed by President Xi Jinping.
Rita Fatiguso, China correspondent for the Italian newspaper Il Sole 24 Ore, said people want to know more than ever about China as the country grows more powerful. She said she wants to report more on China's intellectual property courts, as many popular Italian brands are taking legal steps against Chinese companies that counterfeit their products.
The State Council Information Office also released on Thursday the latest contact information for central departments and ministries as well as provincial and regional governments.
In 2016, foreign reporters will be given opportunities to sit in on court hearings and visit intellectual property courts, said Sun Jungong, spokesman for the Supreme People's Court of China.
"Foreign reporters are very interested in China's judicial reform, and we will make sure we can provide enough information to satisfy their needs. They are welcome to join our routine news conferences," he said.
Yang Yujun, spokesman for the Defense Ministry, said the ministry has sped up the process for responding to interview requests from foreign media. It also released major information on China's military reforms, including troop cuts, in a timely fashion this year and plans to host more news conferences next year.