City joins others that made progress in environmental quality and use of energy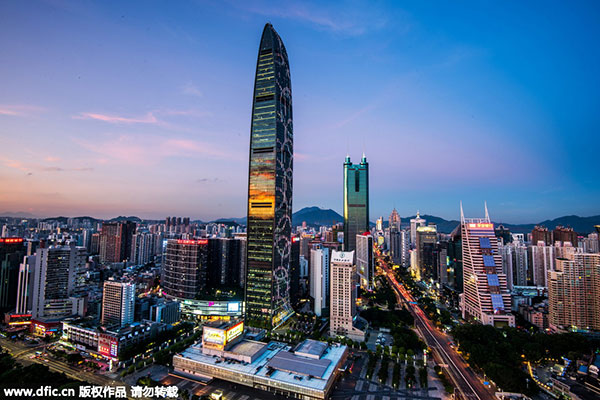 A view of Shenzhen's landmark skyscraper Kingkey 100, June 16, 2015. Housing prices in the city surged 15.9 percent in June, according to the National Bureau of Statistics. [Photo/IC]
Shenzhen made great leaps in energy efficiency and environmental quality in the past two years, as did Taizhou, Zhejiang province, but Beijing lost ground, according to a recent study.
Using an index developed by the Chinese Academy of Sciences and Accenture Plc, a multinational management consulting company, 100 cities were examined for their "resource and environmental sustainability". Several indicators were used, such as water and energy consumed per GDP unit, the recycle rate for industrial waste, emissions of sulfides, the intensity of fine particulates in the air and carbon emissions per capita.
Beijing and Shanghai scored poorly in the index. Of the cities examined, Beijing dropped to 19th, from 15th two years ago, and Shanghai moved from 22nd to 18th. Beijing was dragged down because of its air quality.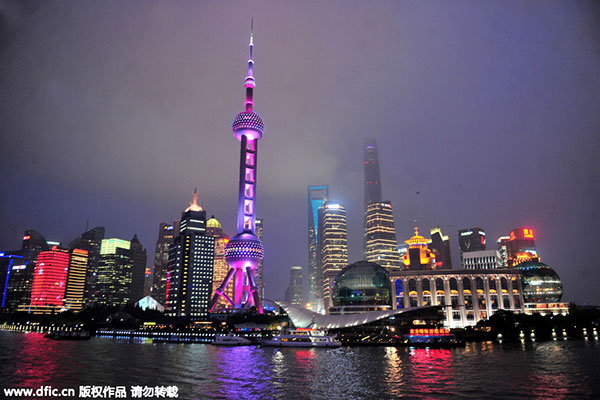 A night view of the Bund in Shanghai, July 21, 2015. [Photo/IC]
The study found that China's major city cluster had not climbed the sustainability chart. The Beijing-Tianjin-Hebei cluster, as well as the Chengdu-Chongqing cluster saw the deterioration of their environments over the past two years.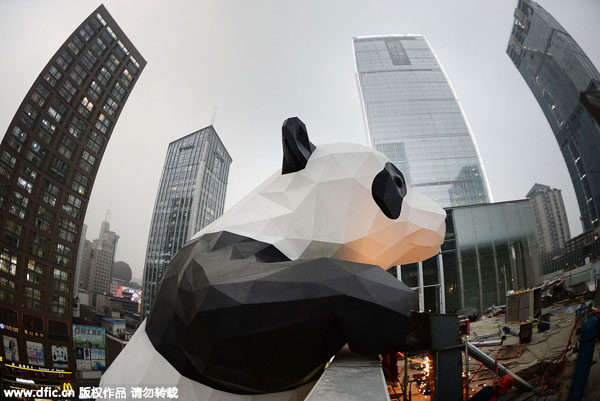 A giant panda-shaped art installation on the facade of a shopping mall in Chengdu city, Southwest China's Sichuan province, Dec 23, 2013. [Photo/IC]
Shi Minjun, a research fellow at Chinese Academy of Sciences who participated in the study, said that when considering the integration of the Beijing-Tianjin-Hebei area, Beijing and Tianjin should not only consider the relocation of their industrial facilities to Hebei, but consider how to help less prosperous Hebei improve its capacity, such as the introduction of technologies to lift resource efficiency and curb emissions.
The study called for a greater role for information technology to curb emissions. It estimated that digital technologies application could cut annual global carbon emission by 12.1 billion tons by 2030 (annual emission by that year is estimated at 35 billion tons).
Li Guanghai, managing director of Accenture Strategy in Greater China, noted that implementing carbon-reduction measures, such as replacing coal with gas, would result in losses for many industrial firms that burn cheaper coal, as they have thin profit margins. The solution is to reduce the cost of new technologies, Li said.
"Technology is evolving really fast," Li said. "What's great about technology is it helps to thaw boundaries of industries. For example, Uber is changing the roles of consumers, taxi drivers and regulators while making self-ownership of cars less necessary."
Many of Accenture's multinational clients are actively embracing technology to save energy and reduce costs, he said. For example, tire manufacturer Michelin installs sensors on its tires to monitor trucks' real-time fuel consumption. The data are used to optimize drivers' behaviors and reduce fuel. Michelin is also leasing, instead of selling, its tires to improve efficiency.
Major Chinese companies are exploring various technologies to reduce energy consumption, such as the "smart" electrical power grid, power plants, pipelines and mines, he said.
Top 10
Rankings for resource and environmental sustainability (2013 rank shown in parentheses)
1. Shenzhen (10)
2. Taizhou (20)
3. Xiamen (8)
4. Zhanjiang
5. Weihai (1)
6. Qingdao (9)
7. Haikou
8. Fuzhou (35)
9. Nantong (7)
10. Yangzhou (2)