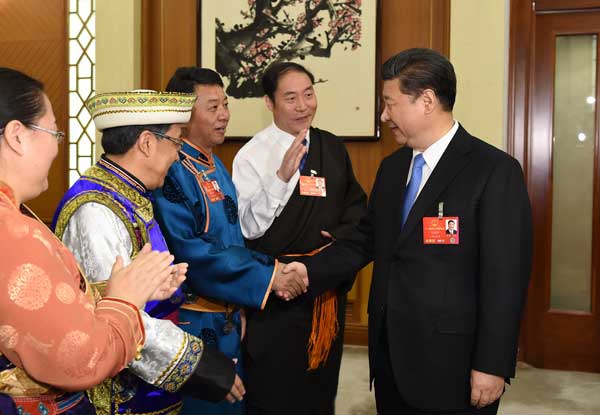 President Xi Jinping meets deputies from various ethnic groups while attending a panel discussion with the Qinghai province delegation during the annual sessions of the top legislature and political advisory body in Beijing on Thursday. Huang Jingwen / Xinhua
President Xi Jinping said the local government is duty-bound to protect the ecological environment on the Qinghai-Tibet Plateau, especially in the Sanjiangyuan area, where the Yangtze, Yellow and Mekong rivers originate.
While joining a panel discussion on Thursday with lawmakers from Qinghai province, where Sanjiangyuan is located, Xi said that protecting the fragile ecology there is of utmost importance.
"The ecological environment has irreplaceable value," Xi told the deputies. "We should treat it as our lifeline and protect it like the apple of our eye."
Xi also urged local officials to try hard to lift people out of poverty and maintain ethnic unity.
Ethnic groups other than Han people, such as Tibetans and Hui people, constitute about half the population of Qinghai.
The Sanjiangyuan area, known as China's "Water Tower", provides about 40 billion cubic meters of water a year for the lower reaches and supports a population of 600 million.
China established the 366,000-sq-km Sanjiangyuan Nature Reserve in August 2000. About 4,000 meters above sea level, the reserve covers more than 40 percent of Qinghai.
In December, the Central Leading Group for Comprehensively Deepening Reforms, headed by Xi, passed a bill to launch a national park in Sanjiangyuan, further increasing the area's importance as a national focus of environmental protection.
One of the world's most biologically diverse nature reserves, the area is home to more than 2,200 types of wild plants, 85 animal species and over 230 kinds of birds.
However, since the late 20th century, the source lakes have shrunk as a result of environmental damage caused by human activities and overgrazing.
Xi told the lawmakers that the ecological system is fragile there and the glaciers, lakes, rivers and wetlands in the region should be protected to guarantee that "rivers of clean water run eastward".
China has played an active role in making international rules related to climate change, and the Chinese government is fulfilling its obligations to environmental protection in a voluntary and proactive manner, Xi said.