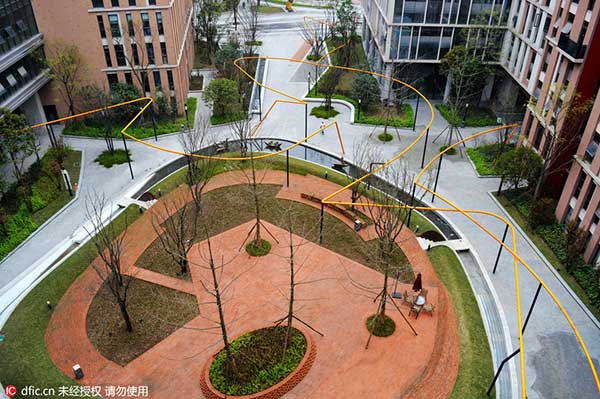 A bird's eye view of the water pipe.[Photo/IC]
It's no secret that the drainpipes under your kitchen or bathroom sink are not straight drainpipes, but probably curvy. But how far can a water pipe be stretched and into what shape? A long, circuitous pipeline for delivering water at an industrial park just went too far with the idea.
The yellow pipeline with many twists and curves, laid out several feet above ground at Liangjiang Advertising Industrial Park in Chongqing municipality, looks like a track "hovering" in the sky and was dubbed "the most capricious plumbing" by local citizens.
Liangjiang Advertising Industrial Park is home to a cluster ofcultural and creative industries. Nearly 150 companies in advertising, communications, design and digital media management are now settled in the park.