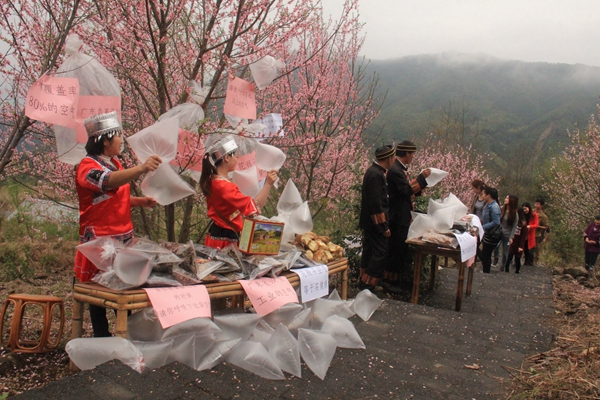 Villagers sell fresh air to tourists in Lian Mountain, South China's Guangdong province, on March 19, 2016. [Photo/CFP]
A new business emerges as smog spreads in most parts of China.
Want a breath of fresh air? Well, here's the solution. Villagers are selling bags filled with local fresh air to tourists for 10-30 yuan ($1.5-$4.6) in Lianshan Mountain, South China's Guangdong province. Lianshan Mountain has the largest forest coverage in Guangdong.
To make their sales pitch right, they have come up with such slogans as "buying air equals buying health" and "the air without industrial pollution".
But reactions of tourists differ. Some find it funny, some are curious and the others bargain with villagers and carry the bags all the way to their homes in cities.
Villager Zhi Chenglin is the initiator of the 'fresh air' scheme. He used to work in Guangzhou, Guangdong's capital, but returned to hometown to escape the bad air quality three years ago.
Zhi said he hopes the idea will remind urban residents about the importance of environmental protection.
Zhi is not the first person who wants to sell fresh air, look at this Canadian firm which cashes in on smog.