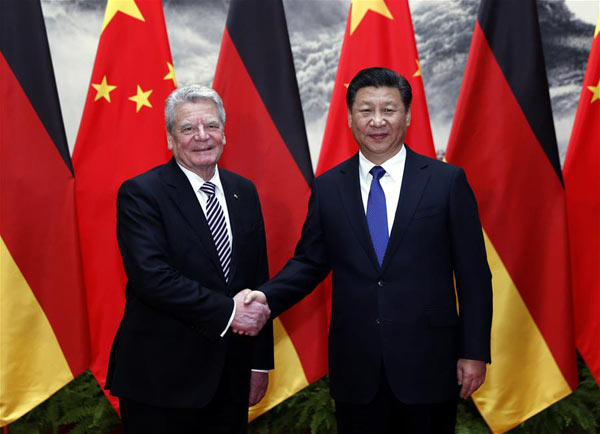 Chinese President Xi Jinping (R) holds talks with visiting German President Joachim Gauck at the Great Hall of the People in Beijing, capital of China, on March 21, 2016. [Photo/Xinhua]
German President Joachim Gauck's visit to China will pave the way for greater cooperation and deeper links between two of the world's major economies, according to China's ambassador to the European nation.
The visit by Gauck, who arrived in Beijing on Sunday, also showcases the high level of ties between the two countries, Shi Mingde said.
Sino-German ties will "scale new heights" this year, as German Chancellor Angela Merkel is expected to visit China twice, Shi told China Daily in an interview.
It is the first visit to China by a German president since 2010 and is in response to the visit to Germany by President Xi Jinping in 2014, the ambassador said.
The first priority for the visit is to boost development of the two-way relationship and present Gauck with "a good opportunity to gain a better understanding of China from various angles", Shi said.
Xi met with Gauck on Monday afternoon in Beijing.
Gauck, who is scheduled to leave on Thursday, will visit Xi'an, the capital of Shaanxi province, where he will get a broader insight into China's history, Shi said. He will also visit Shanghai, where he will see "modern China and what has been achieved through reform and opening-up".
Another highlight of the visit is the attendance by leaders from both countries at the opening ceremony of the China-Germany Year of Student and Youth Exchanges, Shi said.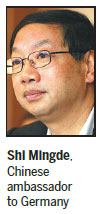 There are 300 high schools in Germany that teach Chinese and about 32,000 Chinese students are studying in the country, the largest single group of international students in Germany.
Shi said, "The two countries have achieved progress on cultural and artistic cooperation, and this visit will see more cooperation programs settled."
Merkel is expected to visit China later this year for the annual government consultations between the two countries and will also attend the G20 leaders' summit in Hangzhou, Zhejiang province, in September, Shi said.
As Germany will host the G20 summit next year, Shi said leaders of both countries have agreed to enhance coordination to ensure the continuity of the agenda in between the two summits.
Beijing and Berlin share ideas on a range of international and economic issues and want to boost economic growth through innovation and structural reform, Shi said.
Coordination across a number of sectors has been, and will continue to be, achieved, he said, adding that China can learn much from Germany's industrialization and progress.
The two countries have reached consensus on the digital economy, green development, energy, electronic vehicles and advanced manufacturing sectors, and progress is being made, Shi said.
zhangyunbi@chinadaily.com.cn