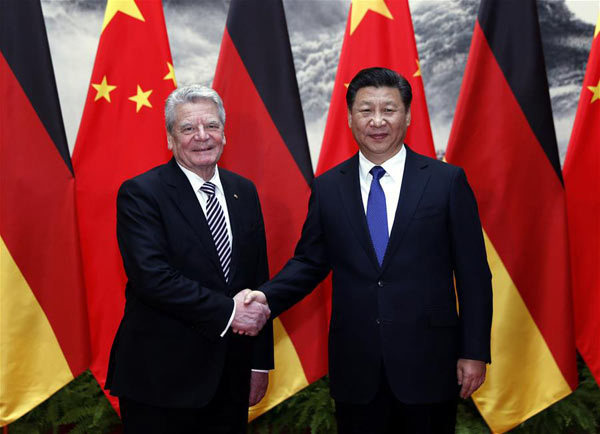 Chinese President Xi Jinping (R) holds talks with visiting German President Joachim Gauck at the Great Hall of the People in Beijing, capital of China, on March 21, 2016. [Photo/Xinhua]
BEIJING -- President Xi Jinping and his German counterpart Joachim Gauck held talks on Monday, agreeing to strengthen the all-round strategic partnership between the two countries.
Welcoming Gauck for his first state visit to China, Xi said, "China and Germany are seeing closer exchanges and cooperation than ever before and bilateral ties are moving toward a higher level."
China and Germany are increasing political mutual trust, practical cooperation, cultural exchanges as well as coordination in international and regional affairs, Xi said.
Xi stressed that understanding the big picture from a strategic and long-term perspective was important for consolidating the all-round strategic partnership.
Both sides should exercise mutual respect, treat each other equally, accommodate and respect each other's core interests and major concerns, and expand common ground and narrow the differences to enhance mutual trust, Xi said.
"China appreciates Germany's adherence to the one-China policy and hopes it will continue to do so," Xi said.
Xi said China has always backed the European integration process and hopes Germany can actively participate in exploring the synergy of China's and Europe's development strategies.
China and Germany can deepen practical cooperation within the Belt and Road initiative, as it will link the Asia-Pacific and European economic circles and help tap into the enormous potential of the Asian and European markets, according to Xi.
Xi called on both countries to cooperate more on climate change measures and international security and within the United Nations.
"China and Germany will respectively host the G20 Summit in 2016 and 2017. China is willing to have close communication with Germany on important agendas of the meetings," Xi said.
Gauck hailed the fruitful cooperation in trade, technology, environmental protection, education, culture and other areas.
Gauck said Germany appreciates China's constructive role in international affairs and the openness and positive impact of the Belt and Road initiative, expressing willingness to enhance partnership with China and boost Europe-China cooperation.