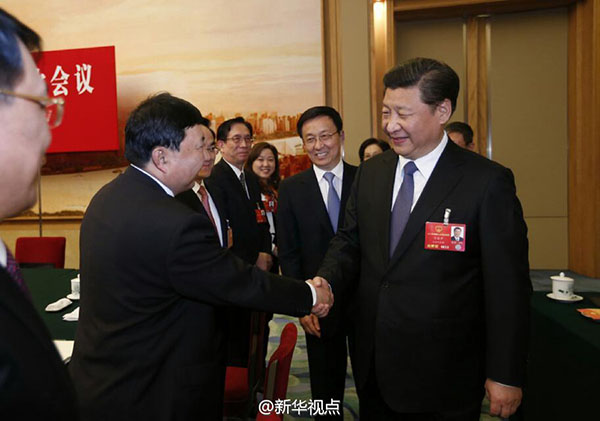 President Xi Jinping attends the panel discussion on the Government Work Report by lawmakers from the Shanghai delegation, March 5, 2016. [Photo/Xinhua]
First stop: Panel discussion with delegates from Shanghai
Key word: Reform pioneer
President Xi Jinping said Shanghai should continue to serve as a vanguard and pioneer in reform and innovation, in remarks made while talking to lawmakers from the eastern coastal city on March 5, 2016 at the annual session of the National People's Congress.
"Shanghai should use its courageous, pioneering spirit and youthful vigor to be innovative in the way it advances reform. The region should accelerate measures that will help it establish itself as a globally influential center for technology and innovation."
About Shanghai
As the country's finance and trade center, Shanghai was chosen for China's first-ever free trade zone (FTZ) and has been used by policymakers as a testing ground for new policies, such as the negative list for foreign capital management, which defined sectors in which foreign entities could invest.