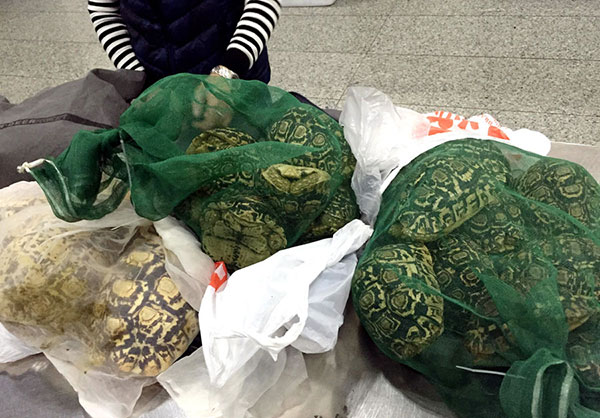 Customs officers found a male Chinese mainland resident trying to take more than 80 live tortoises totaling 34 kilograms to enter the southern city of Shenzhen from Hong Kong at around 9 pm on Sunday evening, Feb 21, 2016. The tortoises are in three large bags. [Photo provided to chinadaily.com.cn]
China should blacklist people who habitually carry or mail invasive species and other prohibited items across its borders, a senior quarantine inspection official has suggested.
Such a system would check the rising number of such violations, according to the official, who is also a member of China's top advisory body.
Information on those who are blacklisted should be shared between departments, including the Entry-Exit Inspection and Quarantine Bureau and visa-issuing departments, said Xu Jinji, vice-president of the Chinese Society of Inspection and Quarantine.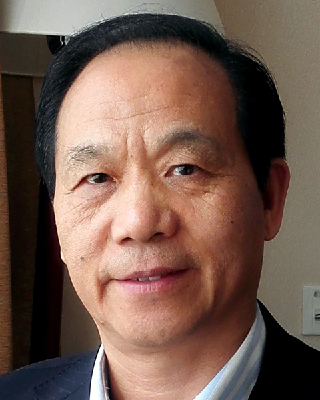 Xu Jinji, vice-president of the Chinese Society of Inspection and Quarantine
"We hope to see those blacklisted for violating inspection rules and carrying invasive species in to or out of China face heavier penalties, such as being restricted from crossing the border," he said.
"This would be a deterrent to the violators, but it needs the participation of other authorities, such as foreign affairs departments."
At Shanghai port, inspection officers have found some foreigners repeatedly trying to carry prohibited species in to China, he said.
But Xu, the former head of the Shanghai Entry-Exit Inspection and Quarantine Bureau, said the officers can do little apart from imposing fines when necessary, due to the lack of a blacklist system.
The number of invasive species intercepted by inspection and quarantine authorities in China has increased in recent years due to intensified global interaction and the development of online shopping platforms, according to the General Administration of Quality Supervision, Inspection and Quarantine.
An invasive species is a plant, fungus, or animal species not native to a specific location, and which has a tendency to spread to a degree believed to cause damage to the environment, economy or human health.