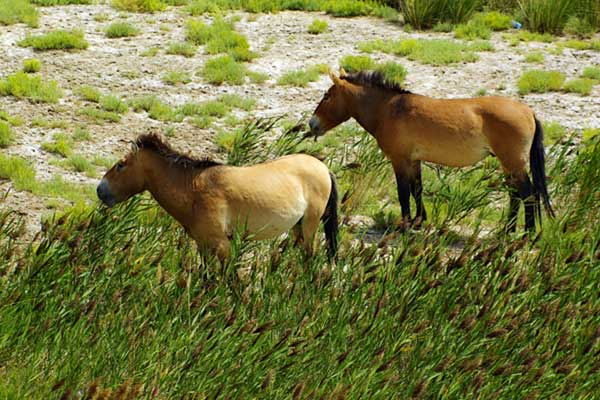 Mustang is among the species that are extinct in the wild in Xinjiang. The photo was taken in 2009. [Photo/CFP]
URUMQI -- Many types of wildlife are facing extinction in northwest China's Xinjiang Uygur Autonomous Region, according to a new report.
The Red List of Xinjiang's Vertebrates revealed that 16 types of vertebrates in the region are near extinction or are critically endangered.
According to the list, mustangs and saigas are already extinct in the wild, while white storks and stenodus leucichthys, a freshwater whitefish, are facing regional extinction. Another 12 species are critically endangered, while 40 other species are endangered.
Compiled by the wildlife and wetland research center under the Xinjiang Academy of Forestry, the red list is an assessment of the conservation status of Xinjiang's biological species based on the standards of the International Union for the Conservation of Nature (IUCN).
The IUCN Red List of Threatened Species classifies species into nine groups, with "extinct" being the most severe, followed by "extinct in the wild." The criteria are based on factors such as rate of decline and population size, among others.
Some wild animals like the Gobi Argali sheep were labeled "endangered" in 2004, but now they are classified as "critically endangered," according to Cai Xinbin, an official with the academy.
Xinjiang boasts rich biodiversity, with 731 types of vertebrates found in the region, or 10 percent of the country's total. It is also home to some of the most ancient species, such as the Xinjiang Salamander.
Wildlife has been threatened by human activity, pollution and climate change in recent years.