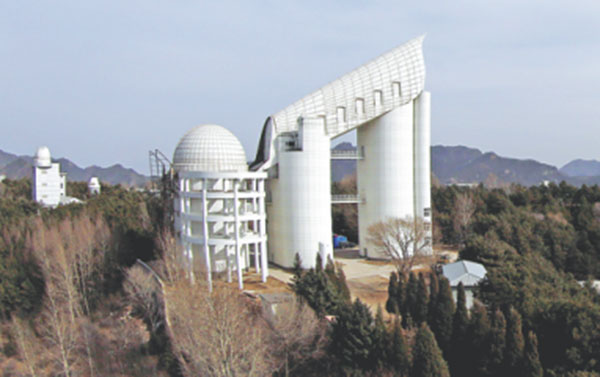 A file photo of the Large Sky Area Multi-Object Fiber Spectroscopic Telescope, also known as the Guo Shoujing Telescope. XINHUA
Astronomers in China working with one of world's largest optical telescopes released a huge collection of data over the new year holiday, increasing the chances of "significant findings" in space exploration, experts say.
The latest update to the National Astronomical Observatories' sky survey, conducted using the LAMOST telescope, includes some 4.62 million spectral data relating to the structure, formation and evolution of the Milky Way.
LAMOST-short for Large Sky Area Multi-Object Fiber Spectroscopic Telescope-has been used to carry out a massive sky survey since September 2012. So far, it has collected more data than all previous sky surveys combined, according to the NAO.
"As more and more data are released, there will be more significant findings," said Yan Jun, director of the NAO.
Chu Yaoquan, deputy director of operations and development at LAMOST, described the survey as like a census of the stars. "The project gives us a large sample of stars. With the large sample-say, a few million-we can know more about the past and present of the galaxy," he explained in an earlier interview.
The first phase of the survey is to collect more than 5 million star spectra by September this year. The data, which will be used to create a "digital galaxy" for research on the Milky Way, will be shared with 31 colleges and institutes in China and overseas.
Previous surveys have provided long-lasting resources. For example, Chen Xuelei, a researcher with the NAO, recently reported a fast radio burst spotted by Green Bank Telescope in the United States' West Virginia.
Working together
"Fast radio bursts, or FRBs, are bright bursts of radiation that usually last for only a fraction of a second before disappearing. Sometimes we joke they are aliens tying to talk to us, but the fact is we have no idea what they are," he said.
An international team made up of scientists from China, the US, Canada and South Africa, among other countries, carried out 700 hours of surveys using the Green Bank Telescope and accumulated a large database. When they started to analyze the data, they found the radio bursts and reported the discovery to Nature magazine in December.
"FRBs take place a few thousand times a year, but it's very difficult to see them," Chen said. "We accumulated mass data, which has increased our chances of observing FRBs."
Meanwhile, Gou Lijun and his students, also with the NAO, have been collaborating with US scientists to measure a black hole named X-ray Nova Muscae 1991 in the Milky Way using data collected in 1991 by the Japanese satellite GINGA.
The size of the black hole is comparable to the size of Beijing: It is about 60 kilometers across. It also weighs roughly 11 times more than the sun, and travels at a speed of about 387 rotations per second.
Scientists have identified 19 black holes in the Milky Way but so far have managed to measure only six of them.