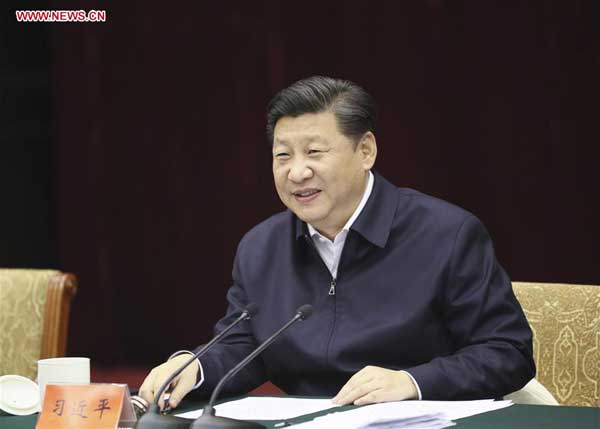 Chinese President Xi Jinping holds a symposium on improving the development of the Yangtze River Economic Belt in Southwest China's Chongqing municipality, Jan 5, 2016. Xi made an inspection tour in Chongqing from Jan 4 to 6. [Photo/Xinhua]
CHONGQING -- Chinese President Xi Jinping stressed ecology and "green development" in boosting the growth of the Yangtze River Economic Belt.
He made the remarks in Chongqing at a meeting with officials from Shanghai, Jiangsu, Zhejiang, Anhui, Jiangxi, Hubei, Hunan, Chongqing, Sichuan, Guizhou, Yunnan and some departments under the State Council on Tuesday.
It is a key strategy for the country to boost growth in the Yangtze River Economic Belt, while much has been done in river course renovation, use of water resources, and control and treatment of water pollution, he said.
For thousands of years, the Yangtze River has been important for the Chinese society and the economy.
Today, it is still crucial, linking the Silk Road Economic Belt and the 21st Century Maritime Silk Road, Xi said.
The status and role of the river and the economic belt mean the development along the river must prioritize ecology and "green development" to respect natural, economic and social rules, Xi said.
The Yangtze River boasts a unique ecological system. To restore its ecological environment will be an overwhelming task and no large-scale development will be allowed along the river at present and for a rather long period to come, he said.
Coordinated development must be achieved in various sectors like water, road, port, wetland and environment, as well as in various regions along the river, he noted.
Vice Premier Zhang Gaoli attended the meeting.