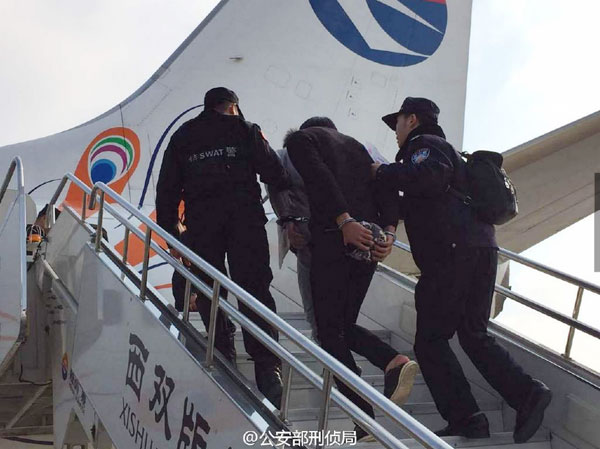 Fraud suspects board a plane under police escort at Xishuangbanna Airport in Southwest China's Yunnan province. [Photo/Sina Weibo]
KUNMING -  Chinese police have recently busted a cross-border telecom fraud gang and seized 470 suspects through collaboration with Lao police, the Ministry of Public Security (MPS) said Friday in a statement at its official website.
On December 30, Chinese and Lao police destroyed three dens and seized more than 500 mobile phones, 400 computers and four vehicles in Laos. All suspects were immediately sent to Xishuangbanna Dai Autonomous Prefecture, southwest China's Yunnan Province, under the escort of Chinese police from Laos, according to the statement.
It is the biggest telecom fraud case busted in the recent crackdown launched by MPS, the statement said.
Last November, Yunnan police found a group of Chinese suspected of conducting criminal activity involving telecom fraud in Laos. The MPS dispatched a special investigation team comprising of police officers from Zhejiang, Hunan, Guangdong, Yunnan and Fujian provinces.
Police found the telecom scammers settled at a border area, purchasing or renting local hotel rooms to operate. They set up false lottery betting websites to swindle money from people across China.
Preliminary investigation showed that there are more than 1,000 victims from most Chinese provinces and cities with more than 200 million yuan (around 32 million U.S. dollars) involved, the statement said.
On Friday afternoon, four chartered flights carrying 300 major suspects arrived at Quanzhou Airport of Fujian Province from Xishuangbanna. The MPS asked Fujian police to handle the case because most victims are from Fujian. Another 170 suspects stayed in Xishuangbanna and will be investigated and handled by local police.
Chinese police have cracked 16,708 telecom fraud cases, apprehended 5,825 suspects and destroyed 927 gangs since a special crackdown campaign targeting such crimes was launched on October 30.